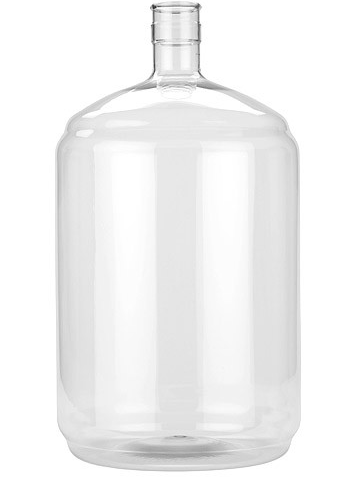 There are pros and cons to using either plastic wine fermenters or glass wine fermenters in home winemaking.  Glass can be easier to clean and unlikely to scratch, while plastic is easier to manage due to its light weight and doesn't cost as much.  It's important to consider the pros and cons of both and then make the purchase decision that is right for you and your situation.  If you end up choosing plastic, which style do you choose?  There are a lot of different plastic wine fermenters out there, so here's a quick breakdown of what's out there.
Plastic Carboys:
The plastic carboy is a type of plastic wine fermenter that is ideal for secondary fermentations.  You can find these carboys in many different sizes, including 3 gallon, 5 gallon, and 6 gallon.  Depending upon how much wine you plan on making will determine the size of plastic carboy you need to purchase.  One major benefit of this fermenter is that if it gets knocked to the ground, it won't smash to bits like a glass fermenter, saving you a lot of money and time.
Plastic Carboys with Barbed Faucets:


Taking the plastic carboy one step further, this plastic wine fermenter comes complete with a faucet that allows you to remove samples of wine from the carboy just as you would if you were sampling from the faucet of stainless steel tanks or oak barrels. The faucet can be more convenient than using a wine thief, with less potential risk of contamination.  Just as with standard plastic carboys, this fermenter comes in different sizes.
Plastic Collapsible Fermenting Jug:


This plastic wine fermenter is fantastic for those odd sized or partial batches of wine.  All you have to do is put all the wine you wish to ferment in the jug, then collapse it down to get rid of the excess head-space left over.  This collapsible fermenter also comes in a couple different sizes, though remember, you can collapse the jug to any size you need for the small amount of wine that you nee to ferment.
Plastic Bucket Fermenter:


This final plastic wine fermenter is great for both primary and secondary fermentations.  It's made of a heavy food grade high impact polyethylene material and has a air tight seal that allows you to ferment with or without the lid.  Similar to the plastic carboy with barbed faucet, this poly-fermenter also has a faucet that allows you to transfer or sample wine without a mess and without disturbing the sediment.
Tuff-Tank Plastic Wine Fermenter: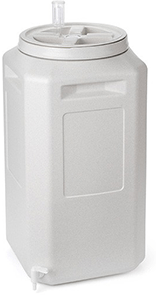 For those larger jobs you can get a 22 gallon Tuff-Tank. This plastic wine fermenter unique square design makes it perfect for handling those larger jobs in a small space. It's footprint is 14″ by 14″. Its construction if very rigid and has a screw-on lid that seals air-tight.
There are a lot of options for plastic wine fermenters out there, so understanding which is best for your home winemaking practice will save you a lot of time, money, and headaches!
—–
Ed Kraus is a 3rd generation home brewer/winemaker and has been an owner of E. C. Kraus since 1999. He has been helping individuals make better wine and beer for over 25 years.