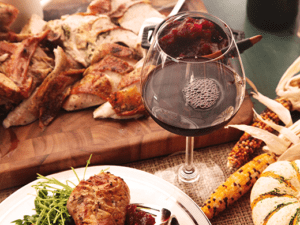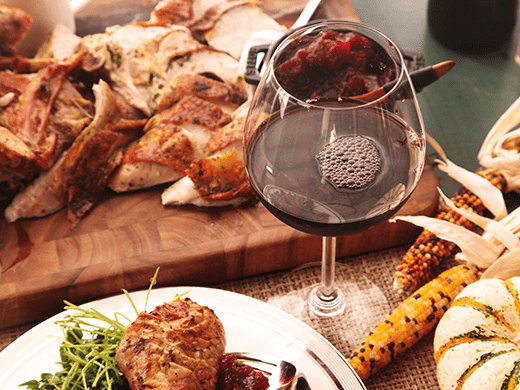 Happy Belated Thanksgiving, everyone!  Leigh here, just checking in!
While eating the delicious meal I prepared for my guests, my only regret is that I didn't decide to start making my own wine earlier than I did.  OK, I don't regret anything, but I did think it would have been really nice to serve my own homemade wine with the meal!
One of my "problems", if you can even call it that, is that I get so excited about things that I just want them to happen RIGHT NOW!  Making my own wine for the first time has definitely been a lesson in practicing the art of patience, that's for sure!  Day 1 for my first batch of wine (that Pinot Grigio kit from California Connoisseur) was about 5 days ago, so there are only 2 more days to wait before I test the specific gravity to see if it's less than the required 1.010.  I really hope it's "on time", as I somewhat stupidly planned the timing of everything so that I leave for my Christmas/New Year vacation almost immediately after the predicted bottling date.  Whoops 😉  Hope nothing is running slow 😉
Last time I expressed a little concern/confusion over the whole "do I use the air lock for primary fermentation or do I not"?  Well, after asking the team at Homebrewing.org, and reading up on a few of the blog posts there, I determine that no, I do not need to use the air lock during primary fermentation.   The yeast actually requires some oxygen during primary fermentation in order to do convert the sugars into alcohol, so in a completely anaerobic environment (i.e. no access to oxygen), the fermentation would go really slow, and possibly get stuck.
Since I have a tiny space, and one which I share with another human, 2 canines, and 1 kitty, I can't just have the cover open the entire time.  So, as a "compromise" to the yeast, I crack the lid open when I am in the condo so I can keep an eye on any curious animals, and when I'm sleeping at night or gone off to work, I close the lid and use the airlock.  This way, my yeasts are still getting some oxygen a decent chunk of the day, and are protected from little paws and tongues of the beasts running around my house when I'm not home or not conscious.
So, how's my fermentation doing?  Well, seems to be going well!  The yeasts started doing their thing over night after the first night, and I woke up the next day to the site of some foamy bubbles on the top of the must.

This video shows basically what my wine was doing 24 hours after I added the yeasts.  If you listen closely, it sounds like the fizz from a soda can after you open it, and you can see some tiny bubbles and activity on the surface.  It's really difficult to hear the sound of the "fizz" in the video, as obviously the camera used to record it was pretty basic, but you can definitely see the bubbles coming up and you'll just have to take my word for the sound.  5 days later, I still hear the fizz going strong, and it definitely smells like a wine in the middle of fermentation.
Crossing my fingers everything stays on schedule, though one never knows what can happen, I suppose.  I'll for sure report back to you guys on Day 8, which will be here before we know it!
——————————————————————————————————–


My name is Leigh Erwin, and I am a brand-spankin' new home winemaker! E. C. Kraus has asked me to share with you my journey from a first-time dabbler to an accomplished home winemaker. From time to time I'll be checking in with this blog and reporting my experience with you: the good, bad — and the ugly.