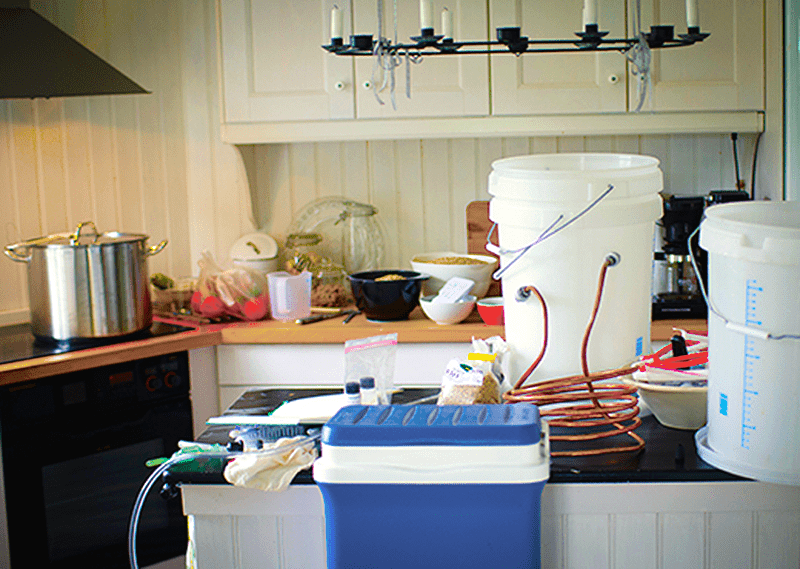 Many brewers will tell you that they spend more time cleaning than brewing. While this may be true, there are a number of things that you can do to turn things around and make the cleaning process easier on yourself. Plus, a clean, organized home brewing workspace or area will go a long ways towards eliminating stress on brew day – and making sure your significant other is supportive of your brewing efforts!
Here are ten tips for keeping your home brewing workspace clean:
Start clean. I find it's best to start from a clean slate. Home brewing in a cluttered kitchen or basement gets annoying, especially when you find dishes or last week's project in the way. Start with a clean, clear surface, and post-brew clean up with be that much easier.
A brewer's best friend: towels. At the beginning of every brew day, I grab a stack of clean towels. They're great for catching drips from the mash tun or boil kettle or wiping up spills (you will have spills). The sooner you can wipe up that spilled wort or beer, the less likely it is to become a sticky mess later on.
Clean as you go. Just like with cooking, I'm a big fan of cleaning things up as you go along. Take advantage of wait time during the mash or boil to clean up some things from earlier steps. This saves time when brew day is done and helps to keep your home brewing workspace clean and clear.
Rinse it – now. Most things that need cleaning in the home brewery benefit from an immediate rinse. Let that crud dry out and you're just making things harder for yourself. Give it an immediate blast of water with a bottle or carboy washer then set it out to dry.
Soak it. I find that most home brewing debris cleans up easily with an overnight soak in brewing cleanser. Give it a shake the next day, dump it, and rinse, and you're usually ready to go for next time. Just be sure to inspect for your gear for any grime or deposits that need a little extra elbow grease.
Scrub it. For more difficult cleaning jobs, some scrubbing may be necessary. Using the right tool for the job is important. On plastics and other scratch-able materials, use a soft cloth to wipe down the surface. (Scratched surfaces can harbor wild yeast and bacteria.) For more durable materials, like glass and steel, brushes work well.
Boil it. Boiling can be an effective means of cleaning your stainless steel homebrew equipment. Boiling can also sterilize it. This might work well for a stainless steel racking cane, thief, or brewing spoon, or for loosening up deposits on the bottom of your brew kettle.
Compartmentalize. Keep your smaller gizmos and gadgets in a toolbox or similar compartmentalized storage box. This will help to keep your home brewing workspace clean and organized. It will also save time and energy when cleaning up after homebrewing.
Stack it. Save space by stacking things like mash tuns, brew kettles, and buckets. Just be careful where you put your glass carboys – you don't want them to fall.
Hang it. Racking hoses, siphons, immersion wort chillers, and various other tools can take up a lot of space on a counter or table. Give yourself some room by hanging these items on a pegboard.
Keeping your home brewing workspace clean and clear can make all the difference between a stressful brew day and an enjoyable one. Looking for more home brewery organization tips? Check out these 5 Tips for Organizing Your Home Brewery.
—–
David Ackley is a beer writer, brewer, and self-described "craft beer crusader." He holds a General Certificate in Brewing from the Institute of Brewing and Distilling and is founder and editor of the Local Beer Blog.