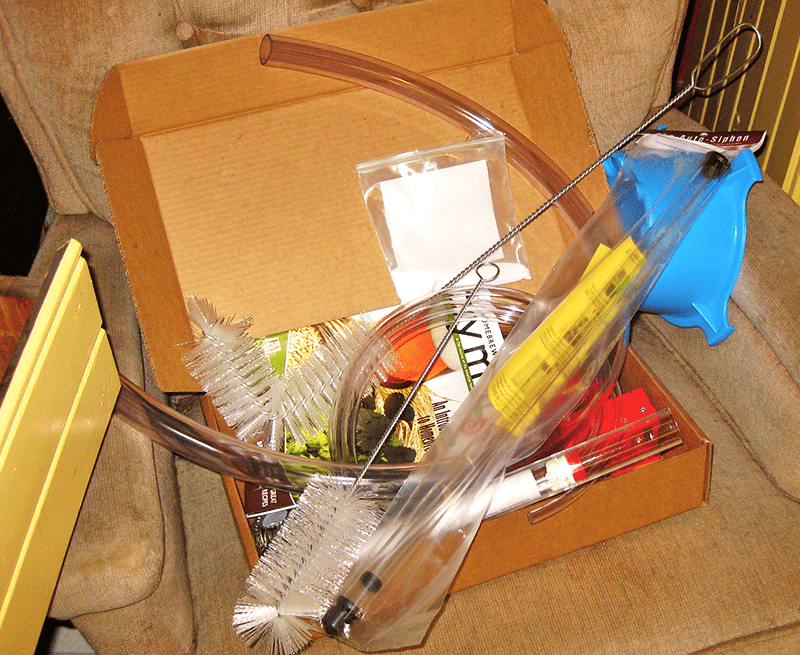 Every time I brew, I dig through all kinds of odds and ends to find what I'm looking for. I basically have a couple small boxes stuffed with all my home brewery supplies – just piled in on top of each other. I'm an apartment brewer right now, so I don't have a lot of space, but there's got to be a better way. Can you relate?
In a search for ways to keep my own homebrew gear neat and tidy, I scoured the web for tips on organizing my home brewery setup.
Here's what I discovered:
If It'll Hang, Hang It
Stirring spoons, racking canes, bottle brushes, and the like lend themselves to hanging. For a small investment, a pegboard and some hanging pegs will help store some of the more oddly shaped items in your home brewery. You might consider labeling the pegboard or drawing outlines for various pieces of equipment so that everything has its place.
Go Vertical
Plastic and wire shelving units aren't very expensive and help to make the most of small closets and spaces along walls. If they'll fit, try placing the largest items on the top shelf. If you have a spare table in the garage or basement, try building a shelf underneath for storing your homebrew gear.
Get Creative
You might need to think outside the box to maximize your space when organizing your home brewery supplies. For example, I found one person who uses an old office filing cabinet to store empty bottles. If you're a handy do-it-yourselfer (which is likely if you're a homebrewer), you could try designing your own storage unit!
Compartmentalize
I have toolbox with customize-able compartments for different tools. Something like this is a good way for organizing home brewery supplies into different categories: finings, cleaners and sanitizers, rubber stoppers, bottle caps, and airlocks, etc.
Container City
A few containers can go a long way. I find that the little bags of bottle caps, DME, priming sugar tend to pile up. I transferred these to glass jars or Tupperware containers, just to make things fit together a little better. I also classified different containers for things I'll only use on brew day, only use on bottle day, or all-purpose equipment and supplies.

Bonus tips and advice for organizing your home brewery setup:
To preserve their alpha acids, hops should be stored in the freezer in a sealed plastic bag.
Keep spare grain in retired 5 gallon buckets. Plus, you'll save money if you buy your grain in bulk.
It's not recommended to store plastic buckets inside each other. If one has a scratch on the outside, it could scratch the inside of another bucket, creating a nice little home for rogue bacteria and yeast.
If all else fails, take this advice: appease your significant other by making them some beer!
What tips do you have for organizing your home brewery setup and supplies?
Til next time…Cheers!
—–
David Ackley is a beer writer, brewer, and self-described "craft beer crusader." He holds a General Certificate in Brewing from the Institute of Brewing and Distilling and is founder of the Local Beer Blog.