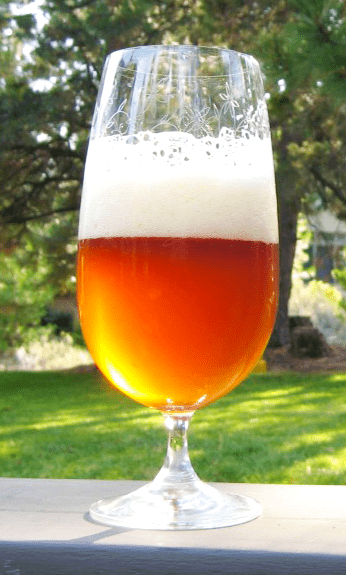 We Americans tend to like everything bigger and better – even our beer. For those of us who enjoy big hop bombs, a regular India Pale Ale doesn't always cut it. Let's take it to the next level with an IMPERIAL IPA.
Imperial IPAs are sometimes known as Double IPAs. All the word "imperial" or "double" means is that they have more of everything: more hops, more malt, and more alcohol. The color remains in the light amber to copper color range. Malt flavor should be present, but hops are the main event, usually American hop varieties. Most Imperial IPA beer recipes will have a substantial amount of late addition flavor and aroma hops, often with a decent to aggressive amount of dry hops for even more hop aroma. Alcohol content typically ranges from about 7.5-10% ABV.
The Imperial IPA beer recipe below goes one step further by incorporating oak flavor. In no way should the oak dominate the flavor of the beer. It should just be a subtle note that supports all of the other flavor elements.
In the event that you don't have your own barrel, have no fear. Oak chips added to your beer during secondary fermentation can provide the same effect. I'd suggest tasting the beer while it ages on the oak chips to determine the level of oak flavor you'd like in your beer. If you'd like to add yet another dimension to your Oak Aged Imperial IPA, consider soaking the oak chips in whiskey for a couple days.
Ready to brew? Let's do it!
Oak Aged Imperial IPA Beer Recipe (Partial Mash)
(5-gallon batch)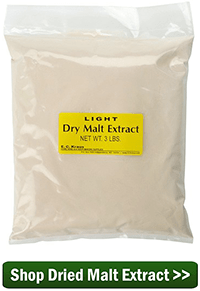 Specs
OG: 1.081
FG: 1.020
ABV: 8%
IBUs: 90
SRM: 11
Ingredients
1 lb. Weyerman Pale Ale Malt
1 lb. Briess Caramel 60 Malt
.5 lb. Briess Red Wheat Malt
9 lbs. Light Dry Malt Extract
1 oz. Northern Brewer hops at :90
1 oz. Northern Brewer hops at :30
1 oz. Cascade hops at :10
1 oz. Centennial hops at :10
1 oz. Cascade hops dry hopped for 7-10 days
1 oz. Centennial hops dry hopped for 7-10 days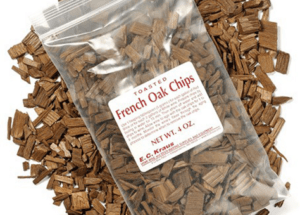 2 packs Wyeast 1028: London Ale yeast
1 oz. Toasted American oak chips
Directions
The night before brewing, pitch the Wyeast 1028 into a 2L yeast starter. On brew day, mix the crushed malts with 3 quarts of water at 160˚F in a large stockpot. Hold temperature at 152-155˚F for 45 minutes. Raise temperature to 170˚F and strain through a colander into your brew kettle. Rinse grains with 3 qts. water at 170˚F. Add enough water to make 3 gallons of wort and bring to boil. Total boil time will be 90 minutes. Add hops according to schedule above. During the last 20 minutes of the boil, stir in the dry malt extract. At the end of boil, chill wort with an ice bath or immersion wort chiller. Pour wort into a sanitized fermenter and top off with enough cool, clean, chlorine-free water to make 5.5 gallons. When wort is 70˚F or below, pitch yeast starter into the wort. Ferment at 68˚F for 7 days, then transfer to a secondary fermenter for 10-14 days or longer. Add dry hops with about 7 days left in secondary fermentation. Add toasted oak chips with 2-3 days left in secondary. Bottle or keg for about 2.2 vols CO2. This beer may benefit from some aging.
Do you like big, oak-aged beers? What are some of your favorite? So you have an Imperial IPA beer recipe you'd like to share with us? Comment Below…
—–
David Ackley is a beer writer, brewer, and self-described "craft beer crusader." He holds a General Certificate in Brewing from the Institute of Brewing and Distilling and is founder of the Local Beer Blog.