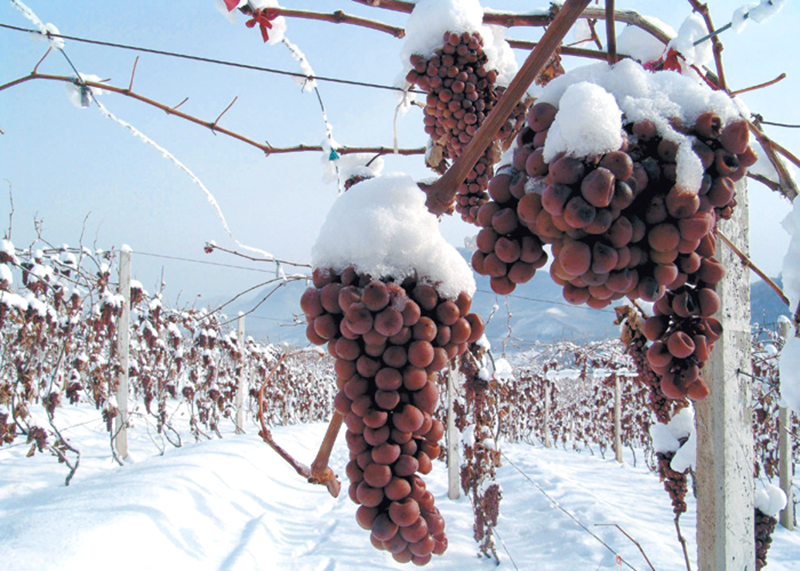 My friend came from Canada and would like me to make ice wine. Is there a particular grape to use. I make scuppernong wine quite well in NC. Do you have an ice wine recipe you could provide me with.
Sue – NC
—–
Hello Sue,
I'm not sure if I can answer your question directly. That's because making ice wine is more of a process. It's really not made using an ice wine recipe, per se.
Ice wine is traditionally made from grapes that have been kept on the vine on into the colder winter months. The grapes are crushed and presses while they are frozen. Since it is only the water in the grapes, not the sugar and flavors, that are frozen, what releases during pressing is a concentrated juice with plenty of sugar and flavor. A majority of the water in the grapes is left behind in the wine press along with the pulp and skins. The result is a wine with lots of flavor and aroma.
As you might expect, ice wines normally come from the cooler regions of the world: Germany, British Columbia, etc. where this freezing occurs early and readily, but in North Carolina you can simulate this to some degree by freezing grape in a freezer and then crushing and pressing them very quickly, before the water in them has time to thaw and incorporate back into the juice. For example, you could try doing this outside on one of your coldest days. Pull the grapes out of the freezer and work quickly. This is what is at the heart of this wine, not an ice wine recipe.
Ice wine is made from a variety of different wine grapes such as: Riesling, Chardonnay, Gewürztraminer, Chenin Blanc, even Cabernet Sauvignon, etc. All these grapes are wine varietals where 100% of the juice is used with no sugar or water added, regardless if it is made as an ice wine or not. That is one of there reasons there's really not an ice wine recipe.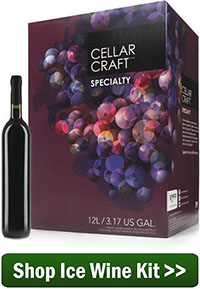 In the case of Scuppernong grapes where sugar and water is often added to cut the tartness of the grape, coming up with an ice wine recipe using them can be a little tricky.
If I were to approach a Scuppernong ice wine for the first time, I would freeze, crush and press as discussed before. Then I would add a sugar/water mixture to the wine must until I knew the acidity was diluted to a decent range. This can be done with an Acid Test Kit. Take an acid reading of your freshly pressed ice juice. The directions that come with the Acid Test Kit will give you the optimal acid level for your wine.
The water/sugar mixture should be made up of 2.5 pounds of sugar (5 cups) for every gallon of water. Hopefully, you do not need to add too much, since this is counterproductive to having the grapes frozen in the first place.
Once you have the wine must set up, the process is just as you have done in the past when you've made your grape wine. Add wine yeast, yeast nutrient and let the fermenting begin. No acid blend or wine tannin are need since plenty of both are coming from the ice-ed grape juice.
Realize that if you have some other grapes available to you besides Scupernong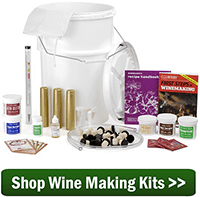 – some grape varietals, the icing process would be a lot more effect since no water would need to be added back to cut the acidity of the juice. This is as close as I can get for you to an ice wine recipe.
You may also want to consider making wine from an ice wine ingredient kit. These kits have already had the freezing, crushing and pressing all taken care of for you. You do not need to worry about adjusting the acidity, or anything like that, either. Just follow the directions that comes with the ingredient kit, add the additional packets when called for, and you will have an ice wine with plenty of flavor and a big bouquet.
Happy Winemaking,
Ed Kraus
—–
Ed Kraus is a 3rd generation home brewer/winemaker and has been an owner of E. C. Kraus since 1999. He has been helping individuals make better wine and beer for over 25 years.