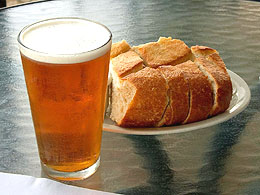 Many homebrewers have looked at the pile of spent grains after their mash and wondered, "Isn't there something I can do with all these spent grains?"
Well in fact, there is! In addition to composting your spent grains or making spent grain dog treats, you can reserve those grains and incorporate them into just about any bread recipe. Here's how to make spent grain bread:
First of all, don't use the spent grains if you've added any hops to the mash. This can result in unpleasantly bitter beer bread.
Unless you intend to use the grains right away, put them in the freezer. Warm, wet grains can get stinky pretty quick! You'll only need about 2-4 cups of spent grains for a loaf of bread. Discard the rest, compost them, or freeze them until you want to cook with them.
Your bread will have a smoother texture if you can process the spent grains in a food processor. If you don't have a food processor that's ok – just proceed with the recipe.
Follow the recipe below on how to make spent grain bread!
Recipe: Spent Grain Bread
(makes 1-2 loafs)
Ingredients
1 cup warm water (you can also use a flat, malt-forward beer, such as porter or brown ale at room temperature)
2 tbsp sugar, honey, or maple syrup
2 tbsp vegetable oil or olive oil
2 tsp active dry yeast (you can also use beer yeast!)
2 tsp salt
4 cups all purpose flour
2 cups spent grain
Directions
Mix together the liquid ingredients (water/beer & oil) in a mixing bowl. Mix in the sugar and yeast and set aside for 5-10 minutes.
Place the spent grains in a large mixing bowl. Mix in the all purpose flour and salt and mix well. Don't be afraid to get messy!
Form a well in the middle of the dough and pour in the liquid ingredients. Mix well.
Form the dough into a ball. The dough should be easily pliable, but not sticky. If your dough is sticky, knead in more flour.
Oil a mixing bowl and place the dough in the bowl to rise. Give it 60-90 minutes.
At this point, the dough should have risen. If it didn't, you may need more yeast, or a fresh batch of yeast.
Punch down the dough, roll it into a nice loaf and place it in a greased bread pan or on a greased baking sheet. Let the dough rise for another 60-90 minutes.
Heat your oven to 350˚F.
Bake the bread for about one hour. The bread is done when a toothpick stuck into the middle of the loaf comes out clean.
Smother your bread with butter, make a sandwich, or make French toast – enjoy!
And there you have it, how to make spent grain bread. What do you do with your spent grains? We'd love to hear your ideas!
——————————————————————————————————-
David Ackley is a beer writer, brewer, and self-described "craft beer crusader." He holds a General Certificate in Brewing from the Institute of Brewing and Distilling and is founder and editor of the Local Beer Blog.