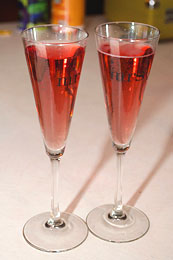 …I decided to try a sparkling wine and to make it sweet. The 5 gallon batch of strawberry from a concentrate was made to about 8-9% PA, and allowed to finish, then I added a syrup of 2-1/4 ounces/gallon and bottled it in the proper bottles. The sparkling part turned out very well, but the taste is anything but sweet. My question is how to make it sparkling and yet to preserve the sweetness? I'm not really equipped to do it the proper way with reopening the bottles and preserving and sweetening at that time. I followed an "easy way" recipe. Is this possible?
Name: Lee C.
State: OH
—–
Hello Lee,
Making a sweet, sparking wine is something that the home winemaker can not do in a practical manner, and in fact, can be dangerous, if attempted and done incorrectly!
The real issue is that the amount of sparkle or CO2 gas in the wine is controlled by how much sugar it has at bottling time. Once bottled, sugars are fermented into more alcohol and CO2 gas. The CO2 gas provides the carbonation — the sparkle. This is why your sparkling wine ended up dry. The sweetness was spent on the sparkle.
If you try to compensate for the sparkle by adding even more sugar, then you've entered the danger zone. The yeast can create much more pressure than any Champagne bottle can hold, if given the opportunity. The result can easily be exploding Champagne bottles — something you do not want to be anywhere near when they go off. This is not how to make sweet sparking wine.
This brings up the question then: "Well then, how do the commercial wineries make sweet sparkling wines?" The answer is simple. They start by making a sweet wine. Then they stabilize it through both preservatives and very fine filtration to remove the wine yeast. Then they force-carbonate the wine with CO2 gas under pressure.
Force-carbonating the wine with CO2 gas is done by chilling the wine down to just above freezing. This causes the wine to be able to absorb CO2 gas more readily. Then the CO2 gas is charged or forced into the sweet wine.
The process of how to make a sweet sparkling wine is really no different than how commercial soda or beer is carbonated. They do it the same way, only with these beverages the resulting pressure they are under is about 35 PSI (pounds per square inch) of CO2, whereas a sparkling wine is around 65 to 75 PSI.


Force-carbonating a sweet wine with CO2 gas is something that can be done by the home winemaker but not without making a sizable investment. First you will need a tank to put the wine in for charging the CO2. A soda canister or corny keg works good for this purpose. Then you will need a CO2 tank and a CO2 regulator. The tank provides the CO2. The regulator allows you to control how much pressure comes out of the tank.
You will need to force-carbonate the sweet wine at 45 PSI on the regulator. Keep the wine under this pressure for a few days, but 2 or 3 weeks would be even better. This will allow time for the CO2 gas to come completely into solution with the wine, making it harder for the gas to escape upon depressurization. The wine will need to be around 30°F. during this time.
Once force-carbonated the sweet wine will need to be filled into Champagne bottles with a counter pressure bottling filling system. This is an apparatus the will fill the Champagne while keeping the bottle under pressure.


It is important to note here that if you are investing in such equipment you may want to forget all about the bottling part and simply serve your sparkling wine on tap. Here is a kegging kit that would allow you to do that. You could also hook it up to a bar with the commercial faucet tap system.
So that's how to make a sweet sparkling wine. While it is a little bit of an investment it is a lot of fun and does a good job.
Best Wishes,
Ed Kraus
———————————————————————————————————
Ed Kraus is a 3rd generation home brewer/winemaker and has been an owner of E. C. Kraus since 1999. He has been helping individuals make better wine and beer for over 25 years.