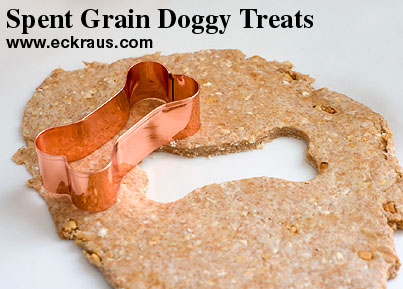 Home brewers and commercial brewers alike generate a fair amount of waste products that have to be processed in one way or another. One of the most significant of these is the mountain of malted grains left over after the mashing process. When the sweet, sugary wort is drawn out of the mash tun, brewers need something to do with those spent grains. Of course, we could just throw them away, but in many cases this grain can still be put to good use, for livestock feed, compost, or other purposes.
One use that has become very popular is turning the grains into spent grain dog treats. Even Dogfish Head sells dog treats made from their leftover grains. The recipe is pretty simple, and just right for using up nearly all of the grains generated from a five-gallon partial mash brew. (Please note: Hops are toxic to dogs. If making dog treats with your leftover grains, please be sure that they haven't had any contact with hops.)
Let's get cooking!
Ingredients (for about 30 dog treats):
2 cups spent grain
1 cup flour
1/2 cup peanut butter
1 egg
Directions:
Use your spent grains as soon as possible after brew day. If making the treats after brew day, collect the leftover grains and either refrigerate or freeze them to avoid mold.
When you're ready to cook, preheat the oven to 350F.
Meanwhile, combine the ingredients in a bowl and mix thoroughly.
Use a rolling pin and a cookie cutter to form the treats, or just shape them by hand. Be sure to make the treats a size that's appropriate for your dog.
Bake the treats at 350F for 30 minutes.
Turn the heat down to 200F and bake for an additional 3 hours to dry them out. Once cool, store them in an airtight container.
Reward your pup for being a good brew mate with a yummy dog treat! Don't forget to store the treats out of reach. Fido is bound to love 'em!
What other uses do you have for spent grains?
Til next time…cheers!
——————————————————————————————————-
David Ackley is a beer writer, brewer, and self-described "craft beer crusader." He holds a General Certificate in Brewing from the Institute of Brewing and Distilling and is founder of the Local Beer Blog.