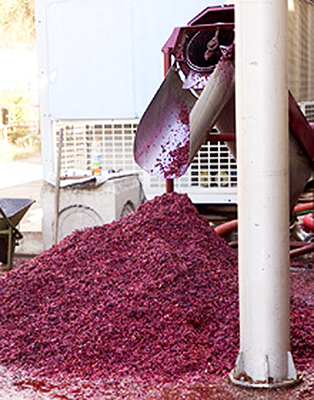 I am currently fermenting a 5 to 6-gallon batch of wine from fresh raspberries, and still have the pulp in a straining bag in the plastic fermenter. SG about 1.045. Can I make a second wine from this pulp? Please explain how, and the ingredients/amounts.
Sam K.
—–
Hello Sam,
What you are referring to is a process called making seconds. This is where you take the spent pulp from a fermentation and use it to make a second wine. It is a practice that is mostly related to making wine from grapes, not raspberries or any other kind of fruits. There is a reason for this…
When you make wine using actual wine grapes, you are using around 80 pounds of grapes for every 5 gallons of wine. When making wine from raspberries and most all other fruits, you are using somewhere in the neighborhood of 10 to 20 pounds for every 5 gallons of wine. There is a lot less pulp involved in the later case. This smaller amount is typically not enough pulp to go around for a second batch of wine, whereas with grapes you'll have quite a bit of pulp. The picture above shows a winery dispensing the grape pulp after fermentation.
Yes, you could use the spent raspberry pulp to make a second wine, smaller batch – say, one or two gallons. Only you can make a decision as to whether or not it is worth your time and effort.
How To Make Second Wines
All you need to do to make a second wine is to:
Take the pulp and add water until you reach the desired batch size – usually the same size as the original batch.
Use a wine hydrometer to determine how much sugar to add to the wine must to achieve the desired alcohol level.
Add acid blend to the wine must based on acid test readings taken with an acid testing kit. The directions that come with the acid testing kit will help you to determine how much acidity your wine should have.
Add a dose of yeast energizer to the must. Follow the amount that is recommended on the jar it came in.
Add the wine yeast – preferably a Champagne-type wine yeast. Go through all the fermentation stages just like you did with the first run and you'll have your second run wine. If you need directions on how to make the wine, you can use the 7 Easy Steps To Making Wine that is listed on our website.
And that's how to make a second wine. It should be noted that the wine will be harsh directly after the fermentation, but will improve remarkable after a month or two of aging.
Best Wishes,
Ed Kraus
—–
Ed Kraus is a 3rd generation home brewer/winemaker and has been an owner of E. C. Kraus since 1999. He has been helping individuals make better wine and beer for over 25 years.