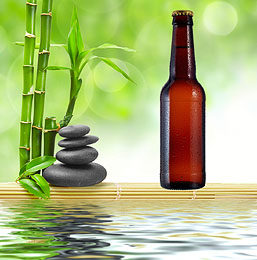 Today we have a guest post from beer blogger Bryan Roth, who explains why sometimes it's nice to just sit back, relax, and let the beer brew itself.
—–
Technically, homebrewing is a science. But you're not defusing an atom bomb – it's just beer.
While I spent time on my early batches worrying about the intricate details of IBUs and grain bill percentages, I eventually let all that melt away. I'm a homebrewer. It's fun. We should treat it that way!
No matter how you achieve the end product, the journey that gets you to a cold, frothy brew in a glass should be an enjoyable one. So let's put away our refractometers, cool our jets in an ice bath, and reflect on the fun meaning of homebrewing.
Here are five lessons I learned to make sure homebrewing is always fun and stress-free:
Beer is flexible
A common adage among homebrewers is how forgiving beer can be. Compared to baking a cake or cooking soup, where small recipe changes can completely change the final product, a few extra ounces of malt isn't going to make or break your brew.
There is some room for error with homebrewing, especially with styles like stouts or even a hopped-up IPA. It's amazing what a little yeast, CO2 and alcohol can do to fix a mistake like a fly nose-diving into cooled wort (my SMaSH IPA last summer).
Brew time = play time
I homebrew outside on a small concrete slab in my backyard next to my wife's garden. Being in close proximity to herbs and flowers constantly makes me second-guess recipe outlines I use for my brews. Half the fun of homebrewing is being able to experiment.
Don't be afraid to grab something from home or your own garden and think how it could improve your next brew. Last-minute decisions to toss in some rosemary in an IPA I made this spring gave it some extra piney notes and lavender in a saison offered an incredible herbal aroma that paired with fruity Belgian esters.
Don't sweat the small stuff…
There are just two aspects of homebrewing I pledge complete allegiance to: temperature and sanitation. As far as I'm concerned, there's no need to get caught up in the nitty-gritty.
Some homebrewers may find good fun in having complete oversight of quality control and the brewing process, but for others, pH levels or water quality are something that may never cross your mind. That's OK.
… but a little preparation goes a long way
A lot can seem to go wrong on brew day, but I've found it's nearly always my anxiety making me worry. No need to be a helicopter parent to your brewing baby, especially when it's easy to have an "emergency kit" of supplies just in case.
Instead of making extra trips to your homebrew store, keep some emergency items around the house. I always store two clean-fermenting Safale US-05 dry yeast packets in my fridge as a precaution and love having some extra muslin bags and Star-San sitting around.
Most important – don't forget to always keep at least one chilled beer at the ready for brew day!
"Relax. Don't worry. Have a homebrew."
There's a reason Charlie Papazian is considered the godfather of modern homebrewing, and that little gem of a quote is part of it. I always think of it as I'm sitting in my backyard with the wort boiling and my cares fading away.
Brew days can be long and tiring, especially when worrying about hitting efficiencies and getting temperatures just right. It's easy to forget in the middle of mashing in just how exciting it will be to take the first sip of the beer you're making. It never hurts to reflect on how pleasant an afternoon can be brewing with friends or even by yourself. Even if you think you screwed something up, all will be fine in the end.
From the beginner to the award-winning homebrewer, it's important for all of us to remember what a great experience homebrewing can be and the people we'll meet because of it. It's a hobby that becomes more fun the more comfortable you are with it.
Next time you strain water from your malt or add your hops, keep in mind it's OK to give yourself leeway. Relax, don't worry, have a homebrew. Chances are you'll still get tasty beer in the end.
—–
Bryan Roth is a beer nerd and homebrewer living in Durham, North Carolina. You can read his thoughts on beer and the beer industry on his blog, This Is Why I'm Drunk, and send him suggestions on how to get his wife to drink craft beer via Twitter at @bryandroth.