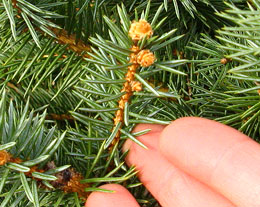 Before we get to the spruce beer recipe lets talk a little bit about spruce. Trees and their branches, barks, and berries have been used traditionally for flavoring beers, especially in Scandinavian countries, for hundreds of years. Juniper, spruce, and fir are some of the most common. Delaware's Dogfish Head Brewery revived the Finnish Sahti, a traditional beer made from rye, barley, and juniper. Their interpretation is called Sah-tea.
In North America, spruce beer was used by American colonists to prevent scurvy. Though we don't have to worry too much about scurvy these days, a good spruce beer is a unique, refreshing, and interesting beverage.
Finding Spruce for Your Spruce Beer Recipe

For the adventurous forager, spruce can be found in the evergreen forests of North America. Cuttings from new growth are best for brewing. Make a tea by boiling the branches in water for 30 minutes. Strain out the branches and add this homemade spruce essence to your mash or boil.
To get an idea of how much to add to your homebrew, mix a small amount of your homebrewed spruce essence into to a commercial beer that's similar to the base style of beer you're making.
If you're feeling extra adventurous, you can cut down your own spruce tree and run the wort through the branches, like this guy.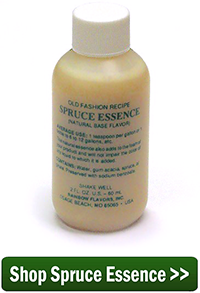 If you don't have a lot of time on your hands for lumber-jacking around the forest, commercially made spruce essence is less risky and more predictable.
Tips for Brewing A Spruce Beer Recipe
Add up to 4 oz. of fresh spruce tips late in the boil for woody, resiny flavor and aroma.
Less is more! Start with a small amount of spruce flavor for your first spruce beer. You can always add more in your next batch.
If you find you've added too much spruce to your beer, give it some time to age. You might be surprised how an "undrinkable" beer can change over several months.
Homebrew Spruce Beer Recipe
1/2 lb. crystal malt (40L)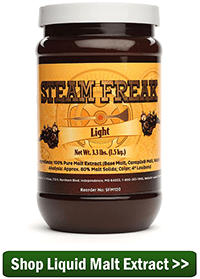 1/3 lb. roasted barley
1/3 lb. chocolate malt
1/4 lb. rye malt
1/4 lb. black patent malt
6 lbs. dark malt extract syrup
4 oz. molasses
2 oz. Hallertau hops at :60
1-4 oz. spruce tips (based on taste preference)
*alternatively, use spruce essence according to package directions
Whitbread (Safale S-04) ale yeast
Corn sugar for priming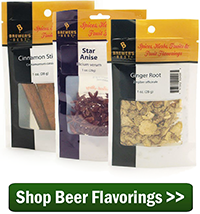 Directions: Steep specialty malts in ~150°F. water for 30 minutes. Add the extract and molasses and bring to a boil. Add the hops and the spruce tips and boil for 30 minutes. Strain the hot wort into a fermenter containing enough clean water to make 5 gallons. Pitch yeast when wort cools to 70°F. or less.
Ferment at 65-70°F. then bottle with the priming sugar. Age 3-6 weeks before drinking.
This is a somewhat basic spruce beer recipe, but there has been some thought put into the balance of the flavor and body. Feel free to experiment and create your own spruce recipe.
—–
David Ackley is a beer writer, brewer, and self-described "craft beer crusader." He holds a General Certificate in Brewing from the Institute of Brewing and Distilling and is founder and editor of the Local Beer Blog.