One of the main reasons people quit home brewing is that it can be a very time-consuming activity. For those of us who enjoy home brewing, we consider it a good use of time. But even those of us who love to brew have other commitments and things to do. After all, time is money, right?
After a recent 10-hour brew day, I got to thinking about some home brewing purchases that would save me time in the home brewery.
Home Brewing Equipment That Helps Save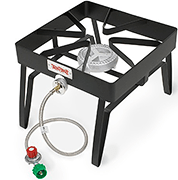 Gas burner – When it comes to heating water and boiling wort, you can save a lot of home brewing time by using a propane burner. As you start to brew bigger batches, an outdoor propane burner is the only way to go.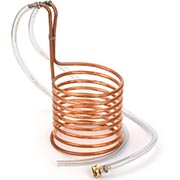 Immersion wort chiller – When cooling 3-4 gallons of wort from a partial mash recipe, an ice bath in the kitchen sink will get the job done, but it still takes a good 30 minutes or longer. An immersion wort chiller will reduce your chilling time by half – maybe even more depending on the temperature of your ground water. Added benefits include a better hot break (reducing haze) and a decreased chance of infection (due to air exposure).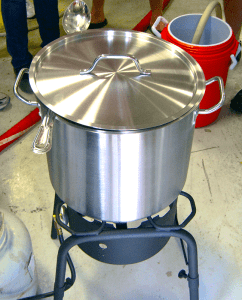 Large capacity brew kettle – I recently brewed a high gravity beer with my five-gallon brew kettle. Since I wanted to end up with a full five gallons of beer, I had to brew the beer even stronger than intended and condense all of the needed sugars into a four-gallon boil. It took over an hour of boiling to condense the wort before I could even start adding hops. I could have saved an hour or more with a larger brew kettle. A 42-quart pot provides ample room for the 6-7 gallons of wort needed for a five-gallon batch of all-grain homebrew. (It's on my list!)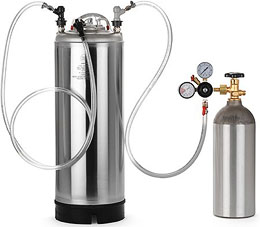 Keg – Anyone who makes beer can tell you how time consuming it can be to remove labels from, to clean, and to sanitize 50+ beer bottles. Eliminate that struggle with your own homebrew keg. Over several batches of beer, the cost of the keg will be balanced out by the time you save.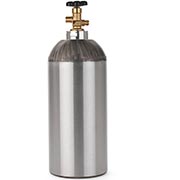 Larger CO2 tank – Enjoy fewer trips for a refill – and sometimes a discounted rate – when you buy a larger capacity CO2 tank. Again, this investment will pay for itself over time.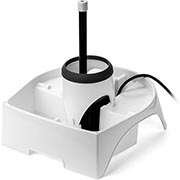 Keg/Carboy Washer – While the Keg/Carboy Washer definitely makes cleaning your kegs and carboys easier, it also saves time on clean-up duties allowing you to do other things while the washer is running.
What methods have you figured out to save time when homebrewing? What home brewing equipment do you have that saves you time?
———————————————————————————————————–
THERE'S MORE! This is part 2 of a 3 part series on home brewing equipment. See part 1 to learn about home brewing equipment that makes brewing easier.
———————————————————————————————————–
David Ackley is a beer writer, brewer, and self-described "craft beer crusader." He holds a General Certificate in Brewing from the Institute of Brewing and Distilling and is founder and editor of the Local Beer Blog.