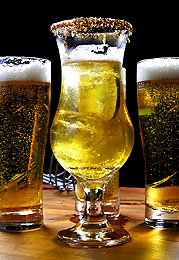 As the craft beer movement has taken the nation by storm, craft beer cocktails have made their way into bars and restaurants around the country. But you don't have to go to the local pub for a good mixed drink. All you need is some home brew on hand and a few special ingredients to impress your friends with your new skill set: craft beer mixology.
Black and Tan
Ingredients: Home brewed Stout and Home brewed Pale Ale
Take an easy step into craft beer mixology with a Black and Tan! A simple combination of two beers, typically a stout and a pale ale, a Black and Tan is poured so that the dark beer floats on top of the light beer, creating a pretty cool visual effect! For best results, the top layer should have a lower specific gravity than the bottom layer. Guinness and Bass are often used, but for your own homemade spin we recommend the Brewer's Best English Pale Ale and Irish Stout ingredient kits.
Directions: The trick with this mix is in the pour. Fill a glass halfway with your homemade pale ale, then turn a spoon upside-down and pour the stout gently over the spoon so that the dark beer sits on top of the light beer. Mess up the first one? Good thing you have half a bottle of each left over!
Tip: Use a chocolate stout, a rye pale ale, or any other combination of homebrews for your own unique variation!
The Honey Beer
Start flexing your mixology muscles by combining your home brewed pale ale with gin, lemon, honey, and salt. Imbibe Magazine and Jill Schuster supply this simple concoction:
Ingredients:
1 1/2 oz. gin
1 oz. fresh lemon juice
1 tsp. lemon zest
Pale ale [preferably home brewed!]
Ice cubes
Tools: shaker, strainer
Glass: pilsner
Garnish: wildflower honey and kosher salt, to rim the glass; lemon twist
Directions: "Dip half of the Pilsner rim in wildflower honey and then lightly in kosher salt. Shake all ingredients but beer. Strain over fresh ice into the prepared Pilsner glass. Top with beer and garnish with a lemon twist."
Home Brew Michelada
If you like Bloody Mary's, you have to try a Michelada. Originally a Mexican creation, the Michelada features lime, salt, tomato juice, orange juice, Worcestershire sauce, hot sauce, and a cold, light lager. We recommend you start with either the Muntons Mexican Cervesa or the Brewers Spring Mexican Lager beer kit for a south-of-the-border, salty, tangy refreshment.
Alison Roman, assistant food editor of Bon Appetit, shares the following recipe:
"Rub the rim of a pint glass with a lime wedge and dip in kosher salt; fill glass with ice. Add 1 1/2 ounces fresh lime juice, 1 ounce tomato juice, 1/2 ounce fresh orange juice, and 1 teaspoon Worcestershire sauce; season with hot sauce. Top off with cold Mexican lager and stir to combine."
—–
Looking for more home brewed beverage combos? Check out Shandy Is Dandy: A Look at a Summer Time Favorite.
—————————————————————————————————
David Ackley is a beer writer, brewer, and self-described "craft beer crusader." He holds a General Certificate in Brewing from the IBD and is founder of the Local Beer Blog.