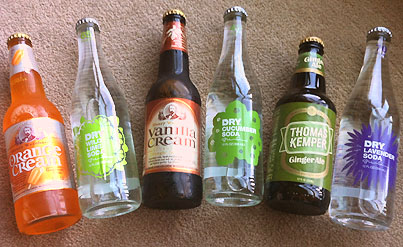 Traditionally, a Shandy is a lager beer mixed with lemonade or citrus soda. You will find quite a few examples on the supermarket shelves this time of year. However, with beer making it's way into the craft cocktail circuit, a Shandy could really include any type of beer (especially a homebrew!) mixed with any kind of soda. Remember how you squeezed those extra lemons in a barely drinkable beer? Now, you can do that on purpose for new, palatable flavor combinations. Below are a few of my Shandy creations that will surely become your summer favorites:
The Margarita Mixer
Take one part Raspberry Ale and one part lime soda. I chose Granville Island's False Creek Raspberry Ale with Dry Wild Lime Soda. The result? A tangy fruity beer beverage that tasted nothing like a traditional beer. In fact, it tasted exactly like a berry margarita. I could see this being a great entry-level beer experience for some of my margarita loving friends. Sunny afternoons with this in my pint would make me a happy lady!
Sweet Tea
Pour one part Pale Ale and one part Ginger Ale and voila…you have adult Sweet Tea! I used Deschutes Brewery's Red Chair NWPA with Thomas Kemper Ginger Ale for my mix. Identical to that thirst quenching southern drink, this Sweet Tea was a delight. Dare I suggest pouring it over ice?
Black Russian
Use one part Chocolate Stout and one part Vanilla Cream soda and well, you have the first cousin of one of my favorite wells, a Black Russian. For me, this would be a great after dinner sipper. The vanilla and chocolate/coffee essence of this combo lends itself to being a great candidate for a beer float, too!
DryPA
Use one part American IPA and one part cucumber soda….wait does that sound a bit questionable? Trust me, that cucumber flavor pairs well with a piney hopped IPA. I dug deep into my beer collection and poured a Presidential IPA from Diamond Bear and used local soda maker's Dry Cucumber Soda. While I used to mix that particular soda with vodka, I think I might love it even more with an IPA.
LavenDouble
Alright, seriously trust me here. If you tried my DryPA mix and liked it, you will LOVE this one. First, find a good Double IPA. I used Myrcenary from Odell, and once again used local soda favorite Dry Lavender Soda. With a strong backbone of a malty and hoppy DIPA, the lavender soda softened up with back of the palette. It almost cut out some of the overly bitterness and replaced it with a gentle floral note.
The key to any craft Shandy is being able to adjust the ratio to your specific taste. Try to keep citrus flavors with Wheats and Pales, savory flavors with Porters and Stouts, and herbal flavors with IPAs. So, grab some sodas, raid your beer fridge and see what new combinations you can come up with!
Care to brew some of your own sodas at home? E. C. Kraus has gear to make your own soda pop! ———————————————————————————————————
Heather Erickson is a homebrewer with three years experience and has competed in the GABF Pro-Am Competition. She writes the blog This Girl Brews and is a regular contributor to homebrewing.com and kegerators.com. Find her on Twitter at @thisgirlbrews.