Part 1 | Part 2 | Part 3 | Part 4 | Part 5

Having stabilized and clarified my Shiraz winemaking kit, this homebrewer has now bottled his own wine. Now, I'm enjoying the fruits of my labor. The bottling process ended up being fairly straightforward, though there were a few key differences between bottling wine and bottling homebrewed beer. In the end though, the wine turned out great! In this blog post, I'll walk you through the final steps of making this wine kit and then share my tasting notes.
Bottling the Wine

After stabilizing and clarifying the wine, I simply let it sit in the fermenter for several days, allowing the clarifying agents to do their work and pull any remaining sediment from the wine to the bottom of the fermenter. At this point, the wine was already in a bottling bucket. While the instructions called for racking one more time, I decided to omit this step since the samples I pulled from the bucket were already clear. The bottling bucket has about 1" of clearance below the spigot, so I was able to draw the wine off the sediment without pulling any into the wine bottles. Unlike beer, there's no need to add priming sugar, so at this point the wine was ready to go.
With my bottling bucket in place on the counter and about 30 bottles cleaned and sanitized, I set to filling each bottle. To do this, I rigged up my bottling wand directly to the spigot on the bucket. One technique that I've found works well is to use a short, 2" segment of hose to connect the wand to the bucket. This way, I can easily sit in a chair to fill beer bottles and don't have to deal with an unwieldy 3-ft. section of hose. This ended up working just as well for filling wine bottles as it does for beer bottles. You can see an example of what this looks like here.
Corking & Finishing
The next step – and herein lies a big difference between bottling beer and bottling wine – was to cork the wine. Since I don't have a wine bottle corker, I elected to use these mushroom corks, which can be put into the bottles by hand. I was a little concerned about whether they would fit correctly, but as far as I can tell, they're working out just fine. No leaks!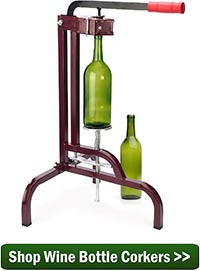 Finally, to finish the wine, I got a set of these heat shrink capsules for putting around the top of the bottle. As far as I know, they're purely cosmetic, but they seem like a nice touch. At first I wasn't sure how to apply them exactly – I tried using a hair dryer, but that didn't produce a very tight fit. But a quick YouTube video showed me the best way to do it: Just heat up some water in a pot, then, holding the capsule over the bottle, carefully submerge the top of the bottle to shrink the cap. Sure enough, about 15 minutes later I had 30, great-looking bottles of wine!
California Connoisseur Shiraz Tasting Notes
So I bet you're wondering how the wine turned out! Here are my tasting notes:
Aroma – big fruity aroma, mostly strawberry; alcohol is noticeable but not overpowering
Appearance – ruby red, great clarity
Flavor – again, strawberry notes upfront, spicy with some mineral character
Finish – dry and acidic with a bit of alcoholic bite, but smoother once it has a chance to breathe
Body – medium-light
Overall – I'm pretty pleased! I generally drink a more full-bodied red, but I don't detect any faults in this wine. I suspect that some of the alcohol and acidity will smooth out over time.
Conclusion

All in all, this has been a great experience! Not only has making this wine taught this homebrewer a few additional techniques, but I've now got 30 bottles of perfectly enjoyable wine to share with friends and family – a nice divergence from my homebrew. I'll be making more wine soon!
Are there any other homebrewers who have made wine, as well. When did you start making wine at home? What are some of your favorite styles to make?
Review the earlier posts in this series below:
Part 1 | Part 2 | Part 3 | Part 4 | Part 5

—–
David Ackley is a writer, brewer, and craft beer marketing consultant. He holds a General Certificate in Brewing from the Institute of Brewing and Distilling and is founder and editor of the Local Beer Blog.