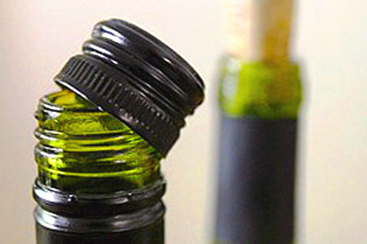 I am a winemaker and I use used wine bottles.  Used cork type wine bottles are becoming harder to find.  I was told by a winery around here that corking screw cap wine bottles is OK to use as they both have the same inside neck diameter.  I tried corking one filled water and it seemed to work fine. I would like to get your thoughts on this.
Thanks
William  P.
—–
Hello William,
As you have already discovered, it is very possible to put cork stoppers into screw-cap wine bottles. This works out great for someone in your position who is having trouble finding cork-finish wine bottles.
I have also seen many other home winemakers cork screw-cap wine bottles over the years with no issues, but I've also seen a few home winemakers run into problems, as well, so before you rush out and buy corks for your screw-cap bottles, there are a few things I would like to point out:
The first issue is with the bottle itself. Most screw-cap wine bottles are made of thinner glass, and are more fragile. The screw-cap bottles we carry are just as heavy as cork-finish bottles, but many are thin and tend to chip or crack more easily while being washed or sanitized.
Contrary to what your local winery states, the opening of these screw-cap wine bottles vary, and more often than not, they are a different size than a standard 3/4 of an inch opening of a cork-finish wine bottle.
With cork-finish wine bottles the barrel of the neck is perfectly straight to accommodate the insertion and even sealing of the cork. With many screw-cap wine bottles the barrel of the neck is slightly bell-shaped. Or in other words, the shoulder of the bottle starts higher. This can cause a cork stopper to expand more at its bottom than at its top. Over time, this contortion can actually pull the cork stopper down the neck of the bottle into the wine itself.
And last, putting a cork stopper in a screw-cap bottling does not look all that great. If you plan on drinking all the wine yourself, this doesn't matter, but if you plan on passing out some as personalized wine gifts or what have you, then you might want to take into consideration that corking a screw-cap wine bottle can look a bit tacky.
If all you can really find are screw-cap wine bottles, you may want to consider sealing them with actual screw-caps instead of corks. From an aesthetic point of view, it won't look any worse than corking the screw-cap bottles, and there are some that say screw-caps actually keep and age some wines better than cork, but that's another topic for another blog post.
Happy Wine Making,
Ed Kraus
—–
Ed Kraus is a 3rd generation home brewer/winemaker and has been an owner of E. C. Kraus since 1999. He has been helping individuals make better wine and beer for over 25 years.