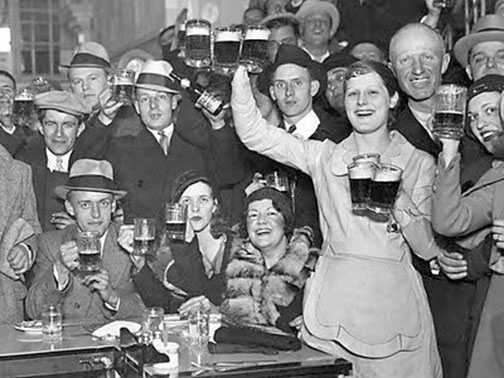 You've already impressed your friends with your homebrew – now impress them with your knowledge about beer!
Warning: Any sharing of these random beer facts at non-beer related events may cause you to be labeled a "beer geek." Read on with caution!
Homebrewing was illegal from Prohibition until Feb. 1, 1979, when it was legalized under President Jimmy Carter. However, it remained illegal in many states until 2013, when Mississippi and Alabama became the last states to officially legalize homebrewing.
Many of the Founding Fathers were homebrewers. George Washington, Thomas Jefferson, and Ben Franklin all dabbled in brewing. You can sample renditions of these brews from breweries like Yards and Starr Hill.
There are 1.2 million homebrewers in the United States.[1] And these homebrewers collectively brew some 62 million gallons of beer a year! That's almost half a billion pints!
Beer is made with fungus! Yeast is added to sweet wort to start the fermentation process. Billions of yeast cells absorb sugar molecules and convert them into CO2 and alcohol. Yeast also produces a variety of flavor compounds, which have a significant impact on the flavor profile of a beer.
Beer is made with flowers! Hops, the chief ingredient that makes beer bitter, is in fact the female flower of the humulus lupulus plant. (Making Flower Power a great name for an IPA!)
Hops are closely related to marijuana. Both plants a members of the Cannabaceae
Beer can be made with seaweed, fish, and just about anything else you can think of. Irish moss, a seaweed, and isinglass, made from fish swim bladders, are two common fining agents. In other words, they help clear your beer. Not to worry – both settle out before making it into your beer glass. Beyond that, just about everything else under the sun has been used to make beer at one time or another, from bull testicles to Count Chocula cereal.
The beer can was invented in 1935.[2] The iconic vessel that many of us consider to be a staple of the beer industry isn't even 100 years old yet. The first versions of the beer can required a church key to puncture a whole into the "flat top" beer can.
Nearly all of your favorite craft brewers got started with homebrewing. Ken Grossman of Sierra Nevada, Jim Koch of Sam Adams, Sam Calagione of Dogfish Head – each of these craft brewing pioneers got started with humble roots.
Beer likely inspired civilization – and the pyramids.[3] I don't know about you, but I find the promise of a cold pint at the end of the workday extremely motivating. Apparently, so did the thousands of workers who built the pyramids of Egypt. According to ancient fermented beverage expert Patrick McGovern, "The pyramids might not have been built if there hadn't been enough beer." Beer has also been presented as a key reason behind ancient cultures settling down and transitioning from a nomadic lifestyle to one based on agriculture.
What other random beer facts would you add to the list?
—–
David Ackley is a writer, brewer, and craft beer marketing consultant. He holds a General Certificate in Brewing from the Institute of Brewing and Distilling and is founder of the Local Beer Blog.