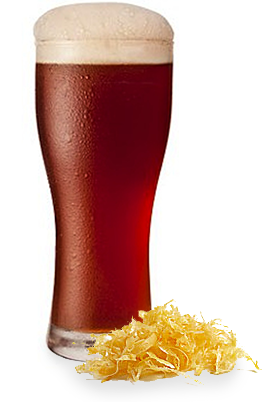 Grapefruit can be a divisive flavor – you either love it or you don't. Some people – maybe you grew up eating grapefruit for breakfast – can't get enough of its bitter, sour, pungent citrus flavor. In fact, some hops varieties are known for their grapefruit flavor.
California's Ballast Point Brewing & Spirits capitalized on grapefruit's affinity for pairing with hops with their Grapefruit Sculpin. It's a spinoff on their highly-rated Sculpin IPA, using the grapefruit to enhance the citrus notes in the hops.

The recipe below, while not an exact clone of Grapefruit Sculpin, uses the same principle to craft a delightful summer IPA. It has a pale malt base enhanced with some caramel malt and rye malt for a little sweetness, some extra complexity, and mouthfeel. Amarillo hops throughout the second half of the boil provide a citrusy platform enhanced by grapefruit peel. And as a final touch, this brew is bottled with honey to provide just a little sweet note in the background.
Enjoy this one in the sun!
 
Grapefruit IPA Recipe (Partial Mash)

Specs 
OG: 1.061
FG: 1.015
ABV: 6%
IBUs: 49
SRM: 8-9

Ingredients 
5 lbs. light dry malt extract
1.5 lbs. Maris Otter malt
1 lb. Caramel 20L malt
0.5 lb. Victory malt
0.5 lb. rye malt
0.5 oz. Bravo hops at :60
1 oz. Amarillo hops at: 30
1 oz. Amarillo hops at :15
1 oz. Amarillo hops at :5
1 oz. grapefruit peel at :5
1 pack Wyeast 1056: American Ale yeast, pitched into a 2L starter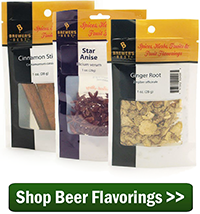 1 cup honey for bottling

Directions 
The day before brewing, prepare a 2L yeast starter. On brew day, take all of the malted grains and mash in 1.25 gallons water at 152˚F for 60 minutes. Strain wort into the brew kettle, sparge grains with about half a gallon of water at 170˚F, and add enough clean water to the kettle to make three gallons. Begin to heat the wort, mixing in the dry malt extract. Bring wort to a boil, then add Bravo hops. After thirty minutes, add one ounce of Amarillo hops. After 15 minutes, add one ounce Amarillo hops. After ten minutes, add the remaining Amarillo hops and the grapefruit zest. Boil for five minutes, then chill wort and strain into a clean, sanitized fermenting bucket. Top off with enough cool, chlorine-free water to make five gallons and mix well to aerate. When wort is about 70˚F, pitch yeast starter. Ferment at 68˚F until complete. On bottling day, use one cup of honey as the priming sugar. Bottle condition for 2-3 weeks and enjoy!
—–
David Ackley is a writer, brewer, and craft beer marketing consultant. He holds a General Certificate in Brewing from the Institute of Brewing and Distilling and is founder of the Local Beer Blog.