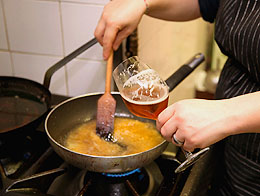 Nothing goes together quite like beer and food. In fact, many Americans are starting to come around to the idea that beer can pair with food at least as well as wine does.
In addition to being served with your food, beer can also be used in it, often as a substitute for other liquid ingredients. Beer adds layers of complexity and a malty sweetness that you don't get from water, broth, or milk.
Cooking with homebrew offers yet another way for homebrewers to experiment and share their passion with friends and family. Besides, it's always fun to serve the beer alongside the food you make with it — and of course to drink it while cooking, too!
Here are three delectable summer recipes that use beer as a main ingredient:
Smoked Porter Beer Brine
Sean Z. Paxton, also known as the Homebrew Chef, suggests the Alaskan Smoked Porter for this recipe, but feel free to use your own homebrewed smoked porter to give added flavor to your pork, chicken, salmon, or whatever else you want to throw on the grill.
Makes: just over a gallon of brine
Ingredients:
½ gallon water, filtered and cold
1 cup kosher salt
¼ cup brown sugar
¼ cup honey, local variety
2 tbsp mixed peppercorns, ground
2 each onions, yellow, large, peeled and sliced
1 each garlic head, peeled and chopped
18 each bay leaves
2 each oranges, halved
66 ounce Alaskan Smoked Porter ale [or smoked porter homebrew]
Directions:
In a large pot, add the water, salt, sugar, honey, peppercorns, onion, garlic, bay leaves, and citrus. Turn heat to medium, stir occasionally until the mixture comes to a boil. Turn off heat and let sit, to infuse the flavors, and cool to room temp. Add cold Alaskan Smoked Porter [or smoked porter homebrew] and mix well. Make sure the brine temperature is below 40°F, as you want to keep the item to be brined cold.
The general rule of thumb is to brine 12 hours per 1 pound of meat. If you brine longer than that, you can risk having an over salty piece of protein. Place the cooled brine in a sealable container that is large enough to hold the brine and the displacement of what is to be brined (the meat). The new extra large 2 gallon Ziplock® bags work well or a cleaned ice cooler (with sealed bags of ice to keep the cooler cold over time). Add the pork (butt, shoulder, loin or belly), chicken (whole or cut up), or filet of salmon to the container and let brine. For pork, I usually brine for 36-48 hours, chicken 24
hours and a filet of salmon 12 hours.
Remove the meat at least 12 – 24 hours before cooking. This will help the meat dry, continue to distribute the added flavor and not over brine the meat. To cook the meat, one can roast, grill, smoke or bake the pork, chicken or fish.
(view the full recipe here)
IPA-Battered Shrimp Tacos
Ashley Routson, the Beer Wench, is a regular contributor to the Whole Foods blog. In this recipe, she recommends a bitter American IPA for the fried shrimp batter.
Ingredients:
1 1/2 pound medium shrimp
1 1/2 cups [American IPA]
1 cup unbleached all-purpose flour
1 tablespoon cornstarch
1 teaspoon salt
3/4 teaspoon garlic powder
1/4 teaspoon cayenne pepper
1 1/4 cup panko breadcrumbs
Vegetable oil for frying
A few soft tortillas
Taco toppings, like cilantro, tomato, shredded cabbage, avocado
Method:
Remove the tails from the shrimp, devein and clean.
In a medium mixing bowl, whisk together the beer or seltzer, flour, cornstarch, salt, garlic powder and cayenne pepper. Pour the panko breadcrumbs into another bowl.
Dip each shrimp into the batter, then gently roll in panko to coat. Place battered shrimp on a clean plate.
Heat 1/2 inch of cooking oil in a skillet over medium heat. Add the shrimp in small batches – I recommend six at a time.
Fry shrimp on each side about 2 minutes, until golden brown. Place fried shrimp pieces on a wire rack or paper towels to drain off excess oil.
Prepare soft shell tacos with shrimp and toppings of your choice and pair with a [American] IPA! Cheers!
(view the original recipe here)
Chocolate Stout Cupcakes
Don't forget the dessert! In one of my all-time favorite recipes made with beer, Dave Lieberman's chocolate stout cupcakes are some of the best cupcakes I've ever had. Chocolatey, roasty stout makes them incredibly moist. The homemade icing is well worth the effort, though I've found that using just 3/4 cup of confectioner's sugar is plenty sweet.
Ingredients:
3/4 cup unsweetened cocoa, plus more for dusting finished cupcakes
2 cups sugar
2 cups all-purpose flour
1 teaspoon baking soda
Pinch fine salt
1 bottle stout beer
1 stick butter, melted
1 tablespoon vanilla extract
3 large eggs
3/4 cup sour cream
1 (8-ounce) package cream cheese, softened at room temperature
3/4 to 1 cup heavy cream
1 (1-pound) box confectioners' sugar
Directions:
Preheat oven to 350 degrees F.
In a large mixing bowl, whisk together the cocoa, sugar, flour, baking soda, and salt.
In another medium mixing bowl, combine the stout, melted butter, and vanilla. Beat in eggs, 1 at time. Mix in sour cream until thoroughly combined and smooth. Gradually mix the dry ingredients into the wet mixture.
Lightly grease 24 muffin tins. Divide the batter equally between muffin tins, filling each 3/4 full. Bake for about 12 minutes and then rotate the pans. Bake another 12 to 13 minutes until risen, nicely domed, and set in the middle but still soft and tender. Cool before turning out.
To make the icing:
In a medium bowl with a hand mixer, beat the cream cheese on medium speed until light and fluffy. Gradually beat in the heavy cream. On low speed, slowly mix in the confectioners' sugar until incorporated and smooth. Cover with plastic wrap and refrigerate until ready to use. Icing can be made several hours ahead and kept covered and chilled.
Top each cupcake with a heap of frosting and dust with cocoa.
(view the original recipe here)
Bon appétit!
———————————————————————————————————-
David Ackley is a beer writer, brewer, and self-described "craft beer crusader." He is a graduate of the Oskar Blues Brew School in Brevard, NC, and founder of the Local Beer Blog.