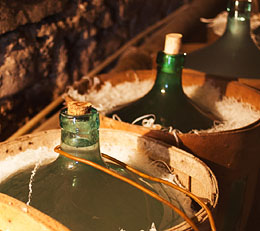 Our wine is still blowing the corks off the carboys. The SG has stopped going down-the wine tastes GREAT-the clarity is great-but, I am a little iffy on going ahead and bottling the wine. Do I need to keep racking our wine to get all the sediment out?  What else can we do, to make our wine safe to bottle? These are all really GREAT tasting wines! Some of the wine jugs still have the air-locks in place. Sharyl
Name:
Sharyl R.
State:
KANSAS
—–
You want to do everything you can to get the hydrometer's specific gravity reading down to .998 or less. If your wine is currently at a higher hydrometer reading than this, you may want to take a look at The Top 10 Reasons For Fermentation Failure. By going over these reasons you my discover something you can do differently to get the fermentation to complete all the way to an S.G. of .998.
If you are already at a reading of .998 or less, then your wine is safe to bottle.
One reason corks can pop off a carboy after the fermentation has completed is because of temperature change. If the wine in the carboy warms up a few degrees it can cause the wine to expand just enough to push an air-tight cork out of the carboy's opening.
Also, if the fermentation did not get below a specific gravity reading of .998 and you still insist on bottling it anyway, I would strongly recommend adding potassium sorbate (wine stabilizer). This will help to eliminate the chance of a refermentation while in the wine bottles.
Potassium sorbate will not destroy the
wine yeast
, but it will keep it from multiplying and regenerating the size of its colony.
Hope this information helps you out.
Ed Kraus
———————————————————————————————————
Ed Kraus is a 3rd generation home brewer/winemaker and has been an owner of E. C. Kraus since 1999. He has been helping individuals make better wine and beer for over 25 years.