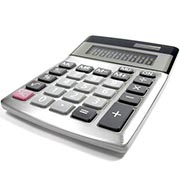 For some, making beer at home is an art. For others, it's a science. Most of us, however, fall somewhere in the middle and just want to make good beer. These three, free, online tools and resources will help you do just that:
1. Brewer's Friend
While there are a number of great homebrewing apps out there, Brewer's Friend offers several online tools designed to help with recipe building, calculations, and other brew day activities. I frequently head over to the site to get help with hydrometer corrections, IBU calculations, and the like.
In addition to the calculators, Brewer's Friend offers a number of other free resources, including:
Free printable brew day sheets
A free Android brewing app
A free iOS brewing app (premium version $8.99)
I know I'm only skimming the surface of the tools offered by this handy website, so stay tuned for a guest blog post from Larry over at Brewer's Friend!
2. Kettle Volume Calculator
If you're lucky enough to have a sight glass on your brew kettle, that's great, but if you don't, this nifty tool from the Merry Cuss Brew Club allows you to calculate the volume of wort in your kettle based on the depth of the wort and the width of the kettle. (I'll sometimes use a clean, sanitized, plastic or metal ruler to take a measurement.)
Why would we want to know the volume of wort in the kettle?
Knowing the volume in the kettle makes it easier to measure how much wort you've run off from the mash, as well as to calculate IBUs, boil-off rates, dilution volumes, and things of that nature. You could even use the tool to calibrate a dipstick for your kettle so you don't have to use the calculator every time you need to figure out your kettle volume.
3. Hop Variety Handbook
When creating a home brewed beer recipe, it's important to consider the characteristics of different hop varieties. The HopUnion Handbook will help you answer questions like:
Would I rather have woody, earthy hops, or something more bright and citrusy?
What is the typical alpha acid content of Cascade?
What beer styles are typically brewed with Magnum?
What is a good substitute for Columbus hops?
The virtual Hop Variety Handbook from HopUnion provides a wealth of information so you can pick the best hops for your brew.
These are just a few of the many great home brewing resources online. What are some of your favorites?
———————————————————————————————————
David Ackley is a beer writer, brewer, and self-described "craft beer crusader." He holds a General Certificate in Brewing from the IBD and is founder of the Local Beer Blog.