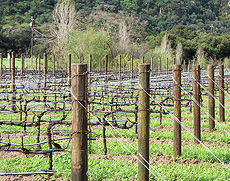 Now is the time to get ready for the next wine growing season. Vines are coming to life and it won't be long you'll need to have your act together.
One of the most useful tools you can have as a wine grower is a refractometer. Refractometers can tell you the sugar level (brix) of your grapes with just a few drops of juice as a sample. By tracking this sugar level of your grapes throughout your vineyard, you'll be able to know the optimum time to pick.
To lean more about refractometers and how they can help you in the vineyard, you may want to go over some of the past posts on this blog that cover various aspects of refractometers.
Refractometers Let You Know When To Pick!
How Refractometers Work?
Get A Refractometer With The "ATC"
You can also learn more about refractometers by visiting our website. There you'll see the refractometers we have to offer as well as detail descriptions.
———————————————————————————————————
Ed Kraus is a 3rd generation home brewer/winemaker and has been an owner of E. C. Kraus since 1999. He has been helping individuals make better wine and beer for over 25 years.