For anyone operating a vineyard, large or small, refractometers are an invaluable tool. They help take the guesswork out of knowing when to pick by indicating when the grapes have become sufficiently sweet–a vital part of any vineyard operation.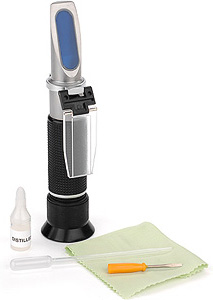 Maximizing the sugar level is important, particularly if the grapes are to be used for wine making. Refractometers measure the sugar level (or brix) of the grapes without requiring a large sample size. All the vintner needs is two or three drops of juice from a grape placed on a refractometers prism window, and it will instantly tell him the sugar level of that sample.
This is why refractometers are so important. By simply going randomly throughout the vineyard and testing a few grapes, it can be accurately determined if it is time to pick.
Even though you may only have a few vines and do not have a large vineyard in your backyard, refractometers are still important to you as a home winemaker. Regardless of the size of the batch, you always want to make the best batch you can. And that's exactly what refractometers help you to do.
We offer a refractometer that is perfect for wine making, and it's very affordable when compared to some refractometers out there on the market. It comes with its own carrying case, complete with directions and it's simple to use.
———————————————————————————————————
Ed Kraus is a 3rd generation home brewer/winemaker and has been an owner of E. C. Kraus since 1999. He has been helping individuals make better wine and beer for over 25 years.