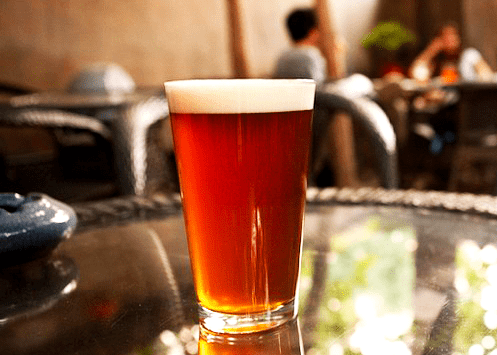 Sometimes a beer recipe can be better than the sum of its parts. This week's amber rye ale beer recipe is a mash-up of two excellent beer styles that are great for fall brewing: amber ale and rye ale. The amber ale brings a malty flavor, medium to medium-full body, and a rich amber color, while the rye brings a distinctive spicy grain note. The hop flavor on this beer is noticeable with a spicy hop character, but the bitterness is balanced at just over 30 IBUs. It's an American-style ale of moderate gravity that should make a balanced beer to enjoy throughout the fall season.
The beer recipe below uses a pound of rye malt combined with Munich malt, caramel, and chocolate malt for layers of malty flavor. Chinook hops provide the classic American citrus and pine hop profile that plays so nicely with the rye. A classic American ale yeast is used, Wyeast 1056: American Ale, sometimes referred to as the Chico strain. If you'd prefer to use dry yeast, try Safale US-05 or Mangrove Jack's. There should be little to no yeast esters in this style, so do your best to keep fermentation temperatures in the recommended range for your selected yeast strain.
This amber rye ale beer recipe is a partial mash. It's very similar to brewing extract with specialty grains, but you're actually extracting some fermentable sugars from the "mini-mash." Review partial mash brewing instructions for more information on how to brew this recipe.
Happy brewing!
Rye's Guy Amber Ale beer Recipe (partial mash)
(5-gallon batch)
Specs
OG: 1.054
FG: 1.015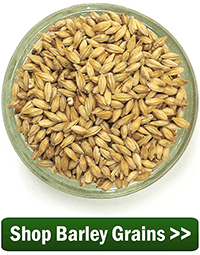 ABV: 5%
IBUs: 32
SRM: 14
Ingredients 
3.3 lbs. Light Liquid Malt Extract
3.3 lbs. Amber Liquid Malt Extract
1 lb. Munich malt
1 lb. Rye malt
4 oz. Caramel 60L malt
3 oz. Chocolate malt
1 oz. Chinook hops at :45 (13 AAUs)
1 oz. Chinook hops at :5 (13 AAUs)
1 pack Wyeast 1056: American Ale yeast
Directions 
The night before brewing, pitch the Wyeast 1056 into a 2L yeast starter. On brew day, mix the crushed malts with 3 quarts of water at 160˚F in a large stockpot. Hold temperature at 152˚F for 60 minutes. Raise temperature to 170˚F and strain through a colander into your brew kettle. Rinse grains with 3 qts. water at 170˚F. Add malt extract and enough water to make 3 gallons of wort and bring to boil. After 15 minutes, add one ounce of Chinook hops. Boil for 40 minutes, then add another ounce of Chinook hops. Boil for five minutes and remove kettle from heat. Chill wort with an ice bath or immersion wort chiller. Pour wort into a sanitized fermenter and top off with enough cool, clean, chlorine-free water to make 5 gallons. When wort is 70˚F, pitch yeast starter into the wort. Ferment at 68˚F for 5-7 days, then transfer to a secondary fermenter for 10-14 days. Bottle or keg for 2.4 vols CO2.
Do you have a favorite amber rye ale beer recipe? Share in the comments below!
—–
David Ackley is a beer writer, brewer, and self-described "craft beer crusader." He holds a General Certificate in Brewing from the Institute of Brewing and Distilling and is founder of the Local Beer Blog.