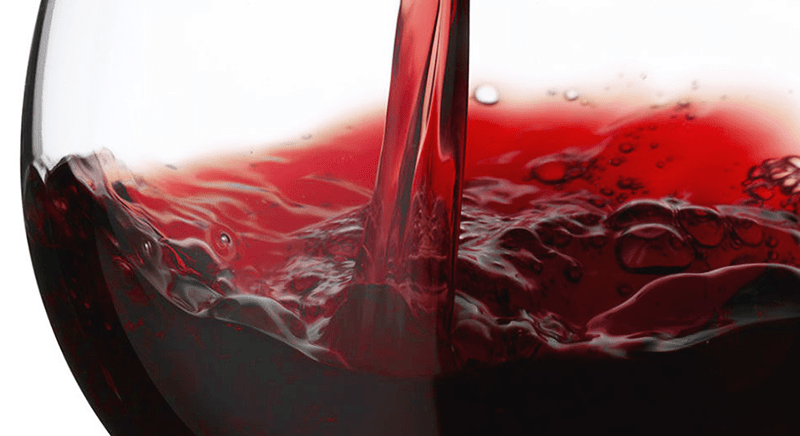 I have an issue with your description of potassium sorbate that uses the word "inhibit". I have looked this word up in the Merriam-Webster dictionary. The first listing says that 'inhibit' means to stop. The second says that 'inhibit' means to hold in check. Holding in check in my mind is not a guarantee of much. Does anyone really know the story? What does potassium sorbate do to wine?
Tom
_____
Hi Tom,
Potassium sorbate is not used to stop a fermentation. In fact, it is not very effective at stopping a fermentation, if effective at all. Your second definition of inhibit is the most accurate, to hold in check, but let's forget about the definitions for now and let me try to explain what potassium sorbate is actually doing to a wine.
When it becomes time to bottle your wine, no matter how may times the wine has been racked or how crystal clear the wine may look, there are still some yeast cells in the wine. It's not the billions of cells that are associated with a full-fledged fermentation – almost all of the yeast cells are now gone through racking – but none the less, there are a few cells, just too few to see with the naked-eye.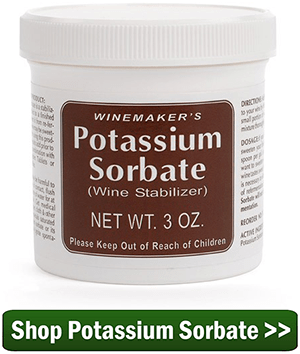 Usually, these wine yeast cells just lay dormant, but if there are sugars available in the wine, it is very possible that the yeast can start to become active and begin to reproduce themselves. Over time, they can rebuild the yeast colony to a size that can become problematic for a bottled wine. The wine will become sparkled and worse yet, the bottles could start popping corks or popping bottles from the pressure built up from a fermentation! But, this is all based on the premise that the yeast are able to grow in numbers and have sugar available to ferment.
This is where potassium sorbate comes into play. It stops the yeast cells from reproducing themselves so that a fermentation does not occur within the wine bottles. It does this by putting a coating the individual yeast cells. This coating interrupts the budding or reproduction process, keeping the yeast cell count at bay.
The only problem is that the yeast that are currently living in your wine will continue to do so until they decide to die of natural causes – old age. The colony will slowly die. How long it takes varies. It is dependent on the size of the remaining colony, the type of wine yeast, and the conditions they are in – temperature, etc. In most cases it takes days, but it can take weeks and sometimes months.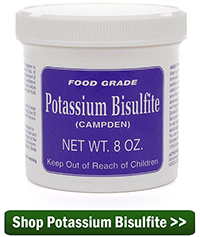 It is not until the current generation dies that the chance of re-fermentation can be completely gone. This is why it is good to get your wine as clear as conveniently possible. Using fining agents such as bentonite is not a bad idea to help drop out the wine yeast. And most importantly use sulfites. This is one of the reasons sulfites are recommended at bottling time – to speed up the death of the wine yeast.
So what does potassium sorbate do to wine? It keeps the yeast from growing out of control. It keeps what little, insignificant yeast cell count at bay, and stops them from reproducing and growing into problematic numbers.
Happy Winemaking,
Ed Kraus
—–
Ed Kraus is a 3rd generation home brewer/winemaker and has been an owner of E. C. Kraus since 1999. He has been helping individuals make better wine and beer for over 25 years.