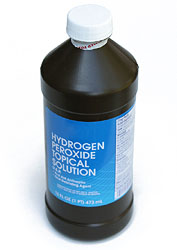 Ed,
I rinsed my bottles with a mild solution of hot water and hydrogen peroxide. could this hurt the wine when it is bottled??.
Name: Butch Bellas
State: PA
Hello Butch,
Using hydrogen peroxide in hot water as a rinse for your wine bottles will not hurt the wine in any way, but it should be pointed out that this is not an effective sanitizer. If your purpose is to sanitize the wine bottles, then you need to do something completely different.
If using hydrogen peroxide as a sanitizer it needs to be used as a 3% solution. This is the strength you will find it on the store shelf. When you dilute it with water you are making it too weak to do any good. It needs to be used straight out of the bottle to sanitize. As you can start to imagine this can be cost prohibitive.
A better and cheaper way to sanitize wine bottles is to use one of the many sanitizers we offer. The three most popular are PBW, StarSan, and Easy Clean. If used as direct there is no question that your wine bottles will get completely sanitized.
Any of these sanitizers can also be used to sanitize your equipment or or anything else your wine or beer comes in contact with. This will help to insure that you never have to experience a spoiled batch.
Best Wishes,
Ed Kraus
———————————————————————————————————
Ed Kraus is a 3rd generation home brewer/winemaker and has been an owner of E. C. Kraus since 1999. He has been helping individuals make better wine and beer for over 25 years.