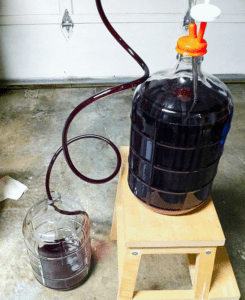 Hi:
Today is day 8 and I just transferred my wine from the plastic fermenter to a glass carboy like the homemade wine instructions say to do. I do not see the wine brewing at all. Shouldn't the wine still be fermenting? Do I have a problem?
Please help!
Robert
—–
Hello Robert.
I am going to assume that you are making your wine from a wine ingredient kit such as our European Select or KenRidge Classic since you mentioned "day 8" much like their directions would.
How fast your fermentation goes can vary. On average, the fermentation should almost be done, if not done completely, by day 8. But sometimes a fermentation will go faster or slower than the wine making directions anticipated. This is normally due to the environmental conditions of the fermentation, such as: the temperature of the wine must, the nutrients in the water you used, etc.
Regardless of how fast your wine must is fermenting, the important thing to know at this point is that it is either still fermenting, or it has completed the fermentation. Luckily for you this can be easily be determined by taking a reading with a wine hydrometer. Hopefully you have one. If you do not, order one today.
A wine hydrometer is very easy to uses. It's a glass tube with a weight at one end. You simply put it into your wine must and see how high or low it floats. It has no moving parts. Nothing goes up and down inside of the wine hydrometer like a thermometer does. It just floats. Wherever the surface of the wine crosses the scale on the wine hydrometer, that's your reading. This is why sometimes it is referred to as a gravity hydrometer.
If the wine hydrometer reads .998 or less on the S.G. scale (Specific Gravity), this means that your wine is no longer fermenting because it is done with the fermentation. If the reading is above the .998 this means that the fermentation still has a little more work to do.
If you are seeing absolutely no activity with a wine hydrometer reading above .998, it would be much to your advantage to go over the Top 10 Reasons For Fermentation Failure. This article will provide you  with wine making tips that will help you get your fermentation back on track.
If the fermentation is done, continue on with the homemade wine instructions you have. Do not speed up the timetable of the directions. Follow the original schedule.
Happy Wine Making,
Customer Service at E. C. Kraus
———————————————————————————————————
Ed Kraus is a 3rd generation home brewer/winemaker and has been an owner of E. C. Kraus since 1999. He has been helping individuals make better wine and beer for over 25 years.