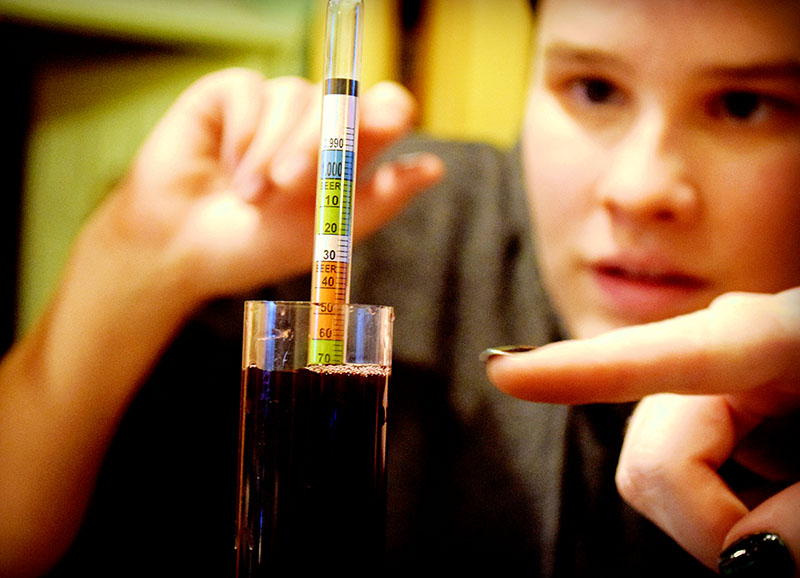 Here is a collection of wine making tips and tricks for beginners and more-seasoned home winemakers. This is advice that has been published throughout our various newsletters over the years. They are just bits and pieces of information that have proven to be useful to home winemakers and help keep them from making mistakes.
I'll put the most important of wine making tips, first. Control your fermentation temperatures. The number one reason for a failed fermentation is temperature. The ideal temperatures for a healthy fermentation is between 70° and 75°F. If the fermentation is cooler than this, the wine yeast will start to go dormant and become inactive. If the fermentation becomes warmer than this, you will be increasing the ability of mold and bacteria to take over the wine.
It is possible to temporarily cut back the amount of water called for in a wine recipe in order to accommodate a fermenter that's not quite large enough. For example, if you have a wine making kit that makes 6 gallons, but your primary fermenter will only hold 6 gallons to the brim, you can cut back on the water called for by 1/2 gallon to allow for the foaming until it is time to transfer it to your secondary fermenter. At that time the shorted water can be added to the batch. The water should be distilled water when added at this point. The maximum amount I recommend shorting the water in a given batch is 1 gallon to every 5 or 6 gallons. This is assuming that the shortage will be promptly made up when the wine is transferred to a secondary container.
Don't have time to make wine when your fruits are ready? That's okay. Just put your wine making fruits in the freezer. Fruits that have been frozen tend to break down more readily when fermented anyway. This will allow more of the fruits character to be release into your wine must. Of all the wine making tips, I particularly like this one the best. It has afforded me ability to have time to make more wine throughout the year.
If you have ever picked elderberries before you know that it can be a very time consuming task. Not only are the number of berries required to make a batch of homemade wine quite high, the amount of stems that are involve are just as bad. You can categorize this one under time saving wine making tips… When collecting the elderberries simply cut them off in clusters, stems and all. A tile knife works great for this. Put them all in a plastic trash bag or similar and freeze them for at least 2 days. Once the elderberry clusters have been frozen, inflate the trash bag with air, tie off its opening. Then violently shake or beat the bag against the ground. This will break most of the elderberries lose from the stems. Once this has been done sufficiently, clip a bottom corner of the plastic bag and the elderberries will come rolling out. You won't get 100% of the berries out, so there will be some waste in the process. But, it is well worth the time that you will save.
By storing your packets of fresh wine yeast in the refrigerator, you can double their shelf-life. Yeast stored in this way will always be good for at least two years after purchasing. If yeast is just stored at room temperature it is usually only good for about a year. It is important to note here that you never want to freeze yeast. Freezing yeast damages their cell walls making budding or reproducing very difficult during the fermentation.
One easy way to warm up your fermenters during the cooler months is to use an old lamp with an old style 100 watt light bulb. If you place the bulb 12 inches off to the side of a 5 gallon batch, it will warm the liquid's temperature by about 8 to 10 degrees. Wrap the vessel in a dark trash bag to protect the wine from the excessive light the bulb causes. If 8 or 10 degrees is too much of an increase, just back off the bulb another 1 or 2 inches away from your fermentation vessel. Use a stick-on thermometer on the opposite side the the fermenter to track the temperature.
When taking a hydrometer reading, give the hydrometer a quick spin in the liquid to be tested, first. This is to dislodge any air bubbles that may be clinging to the side of the wine hydrometer. These bubbles can slightly throw off your reading.
To increase the body of a finished wine without making it sweeter, add 2 to 4 ounces of glycerine to each 5 gallon batch. Glycerine is a natural byproduct of a fermentation. It increases the viscosity or mouth-feel of a wine. Heavier red wines such as Cabernet Sauvignon and Pinot Noir are known for their body. With these wines the fuller body helps their flavor to linger on the taste buds a bit longer while also helping to reduce the wines rough edges.
Of all the wine making tips I've seen or heard of, I believe this one has saved more wine than any other: When doing your first one or two rackings, don't leave any wine behind – get it all. Even if it comes along with some of the sediment. With the earlier rackings all you need to be concerned about is getting rid of "most" of the sediment, not "all" of it. And particularly, not at the expense of loosing your precious wine. It is when you get down to the final racking, that it becomes important to leave all of the sediment behind – even at the expense of loosing a little wine. The last racking is the one that really counts. Heeding this wine making tip has saved me more wine than you'll ever know.
Instead of using cane sugar to sweeten your wines, try sweetening your wine with honey. Honey will enhance the complexity of the wine's finish (aftertaste) and sweeten it at the same time. Remember to always add a wine stabilizer such as potassium sorbate when sweetening your wine with any type of sugar.
There you have it: 10 wine making tips to help your wine making efforts go a little smoother. I'll go through the files and see if I can come up with any more. When I do, I'll be sure to post them here.
—–
Ed Kraus is a 3rd generation home brewer/winemaker and has been an owner of E. C. Kraus since 1999. He has been helping individuals make better wine and beer for over 25 years.
photo credit: MTSOfan wine making 01 via photopin.com (license)