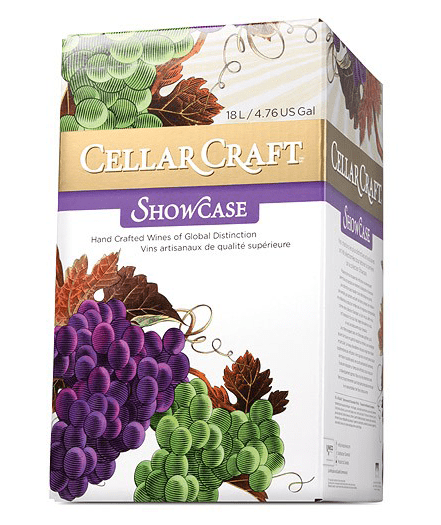 Hi all!
I'm very excited today, as it's the first time ever I've attempted to make two wine ingredient kits at the same time!
The other day, I tucked the Gewurztraminer in for it's 12 days or so in secondary fermentation, and since I have the equipment, ingredients, and space, I figured why not start another wine!
For my second wine ingredient kit of 2015, I'm going to make the Cellar Craft Showcase Red Wine – Rosso Fortissimo. I had sterilized everything the night before, so I was pretty much all ready to go and get started today.
The one thing that I remembered being a pain in the butt last time was marking the 23L mark on the fermenter. I know I know, it's not THAT big a deal, but when the biggest measuring device you have is only 2 cups (500mL), filling the fermenter up to 23L with water to mark it is kind of annoying.
After putting markings on my fermenter, I dumped out the water and then added back in 2L plus the bentonite package. I mixed that as well as I could, though there were a couple of small lumps remaining when I gave up on that part. I don't think it'll be a big deal. I'm sure they'll all get mixed up well eventually!
Then came what I think is the hardest part of the whole process: adding the wine juice. I always feel so awkward during this stage, since the bag is so heavy and sloshes around like crazy. I wish they made something a little sturdier so I would feel a little more secure about pouring it in.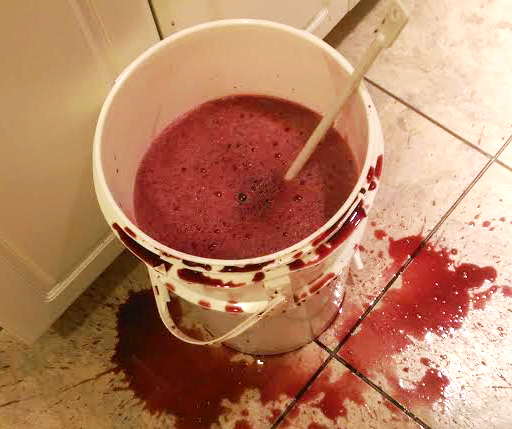 Well, of course while I was pouring the wine juice into the fermenter, my hands slipped and I spilled a bit on the floor. You can see from the picture that it's really not that much, but at the time I was a little nervous that I was going to spill more. Thankfully, that didn't happen.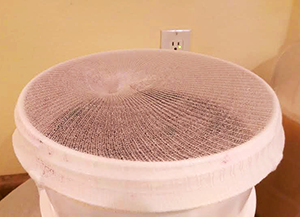 For the grape skins that came with this particular kit, I decided this time I would use the mesh bag that was supplied, since last time I remembered it was really a pain to get all the bits out of the wine when it was time to move on to secondary fermentation. I feel like I needed a third hand to do this, but I figured out a way to sort of secure the mesh to the top of the fermenter — at least in the beginning — to try and make the process a little easier.
Once the bag got too heavy, I had to apply some pressure to the bag with my elbows to keep it from falling in before I was finished squeezing all the grapes out of the pouch. Surprisingly, this went off pretty smoothly. I mixed everything together and then put on the lid. The instructions that came with this wine ingredient kit said the best time for checking specific gravity is between 12 and 24 hours after beginning, so that's what I'm going to do before I move on any further.
After cleaning up the grape skin massacre on the floor with a mop and cleaning the spatter off the cupboards and doors, I felt like a little bit like a criminal cleaning up the scene of a crime. Hopefully in this case, I've already done my time and the rest will be smooth sailing.
I'm really hopeful for this wine ingredient kit. Despite any trials and tribulations, the Rosso Fortissimo smell incredible and can't wait to see how it turns out.
—————————————————————–


My name is Leigh Erwin, and I am a brand-spankin' new home winemaker! E. C. Kraus has asked me to share with you my journey from a first-time dabbler to an accomplished home winemaker. From time to time I'll be checking in with this blog and reporting my experience with you: the good, bad — and the ugly.