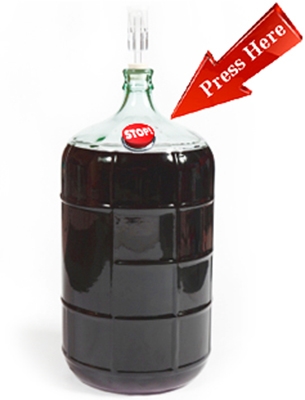 Is there a wine product that you sell that sweetens the wine in the end and also stops the fermentation process.  I thought it was the wine conditioner, but I don't see where it says it stops the fermentation process.
Thanks,
Jen
—–
Hello Jen,
One of the most difficult things a home winemaker can try to do is stop an active fermentation. It's not practical, nor can it be done with any guaranteed success. This holds true for wine conditioner, as well.
There are several wine making products you can use that may inhibit or temporarily slow-down a fermentation, such a Campden tablets or sodium metabisulfite, but these wine making products will not normally bring an active fermentation to a full stop. Their primary purpose is to destroy wild molds and bacteria. Their effect on the domesticated wine yeast doing the fermenting is only minor.
The most important thing to understand about a wine making conditioner is that it should not be added to the wine must while it is still fermenting. It is a wine sweetener that should only be added once the fermentation has completed and the wine has had plenty of time to clear. If the wine conditioner is added during the fermentation or while the wine is still cloudy with yeast, all the sugars that are in the wine conditioner could potentially start a renewed fermentation and turn the sugars from the wine conditioner into alcohol.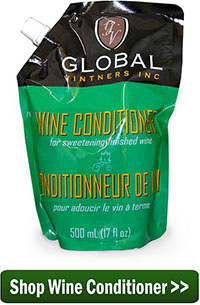 With that being said, the best time to add wine conditioner to a wine is right before you are ready to bottle the wine – add to taste, then bottle.
Wine conditioner does have a wine stabilizer (potassium sorbate) in it that, will help to eliminate the chance of a re-fermenting occurring. It does this by inhibiting the residual yeast cells are still left in the wine from multiplying into a larger colony that can sustain a fermentation.
But again, the stabilizer in the wine conditioner will not stop a fermentation. There are no wine making products you can use that will safely do so. The wine stabilizer in the wine conditioner will only stop a fermentation from re-occurring.
Happy Wine Making,
Ed Kraus
—–
Ed Kraus is a 3rd generation home brewer/winemaker and has been an owner of E. C. Kraus since 1999. He has been helping individuals make better wine and beer for over 25 years.