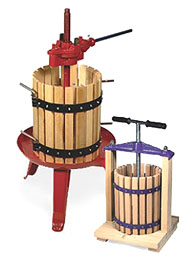 Whether you've recently made the decision to make your own homemade wine from grapes or you've been toying with the idea for a while but haven't made the leap yet for one reason or another, it is important to know your options in regards to how you plan to process your grapes.  Making wine from grapes requires the extra steps of processing the grapes into must that you didn't have to do when making wine from juice that requires extra equipment that you haven't had to use until now.
When you think about grape presses, the first thing that may come to mind is the good old foot!  The historical and romanticized version of the grape harvest culminated with the ceremonial stomping of the grapes by barefoot ladies in huge vats.  In these modern days of health codes and sanitation, the grape stomp has been retired in winemaking and is now only performed as ceremonious activities and the juice of which is not used for any winemaking or consumption purposes.
If you're not planning on stomping your grapes to get to the juice (which I recommend you don't), the biggest equipment acquisition you will need to make prior to making wine from grapes is the grape press.  In order to turn your grapes (or other fruit) into the must, you need to somehow get the juice out of the fruit.  Getting yourself a reliable grape press is an investment you must pursue in order to even think about making wine from grapes or other fruit.
One type of grape press you could use is the Table Top Fruit Press.  This grape press is made of hard woods and is put together using strong cast iron supports.  You can load up to 20 pounds of fruit into this grape press, and can actually press all sorts of fruits inside of it—not just grapes! If you're planning on making 5, 10, or 20 gallons of wine from grapes or fruit, this grape press is the ideal size for your needs.
If you're planning on producing wine at a larger scale, in the range of 15 to 50 gallons of wine, the R-30 Double Ratchet Fruit Press would be an ideal choice for your needs.  Made of similar hardwood and cast iron as the Table Top Fruit Press, the Double Ratchet Fruit Press comes equip with a solid ratchet crank to efficiently and easily press a lot of fruit in a short period of time.
Once you've made the decision to make your homemade wine with grapes (or other fruit), it's very important to invest in a good grape press.  A grape press is not only more sanitary and clean than stomping with your feet, but it's more efficient and you'll be much more productive!
———————————————————————————————————
Ed Kraus is a 3rd generation home brewer/winemaker and has been an owner of E. C. Kraus since 1999. He has been helping individuals make better wine and beer for over 25 years.