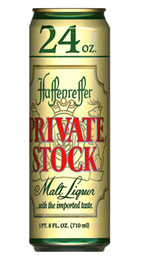 I would like to try brewing Haffenreffer Private Stock malt liquor. Do you have a recipe for this American malt liquor 6.90% ABV? Whole grain or extract would be OK. I can go either way. I have been brewing about ten years and would like to try to make an old favorite from back in the 50s. Not available in Arkansas. Hoping you can help with a workable recipe.
Name: Roger B.
State: Arkansas
—–
Hi Roger,
Thanks so much for your question! This sounds like a fun experiment!
As you probably know, malt liquor is a basically a high-gravity lager brewed with high levels of adjuncts, usually corn, sugar, or a combination of both. Malt liquors tend to be around 6-8% alcohol by volume and are lightly hopped.
While I've never had the particular malt liquor you mentioned, I've had my fair share of Olde English, so I have a general idea what you're going for. You may want to do some experimentation to find what works best for you, but here's what I recommend:
Crack open a 40 of your favorite malt liquor.
Get a Brewers Best Cream Ale or American Light recipe kit.
Supplement the recipe with an extra can of Briess Pilsen Light liquid malt extract plus a combination of flaked corn and corn sugar to bring your estimated original gravity to about 1.070.
Use a clean fermenting lager yeast, such as Wyeast 2035.
Lager the beer, fermenting it at cold temperatures to make the beer as smooth as possible.
Drink a number of 40s over the following weeks so you can reuse them to bottle your own malt liquor.
You could also try an all-grain recipe like this one (for a 5-gallon batch):
Or, you may want to try Charlie Papazian's recipe for an "Olde English 800", found in the Complete Joy of Homebrewing:
Olde English 800
5 Gallons
OG: 1.055
FG: 1.004
ABV: 7%
Color: 4.5 SRM
Bittering Units: 14
3.5 lbs. American 2-row pale malt
3.75 lbs. American 6-row malt
3 lbs. flaked corn
2 HBU (56 MBU) American Cluster hops (pellets) – 105 minutes (bittering)
1.5 HBU (43 MBU) American Nugget hops (pellets) – 105 minutes (bittering)
1/4 tsp. Irish moss
Wyeast 2007 Pilsen Lager yeast
Instructions: A step infusion mash is employed to mash the grains. Add 10 quarts (9.5L) of 130-degree F (54.5 C) water to the crushed grain and flaked corn, stir, stabilize and hold the temperature at 122 degrees F (50 C) for 30 minutes. Add 5 quarts (1.9 L) of boiling water. Add heat to bring temperature up to 150 degrees F (65.5 C). Hold for about 60 minutes.
After conversion, raise temperature to 167 degrees F (75 C) water, lauter and sparge with 4 gallons (15 L) of 170 degree F (77 C) water. Collect about 6.5 gallons (25 L) of of runoff, add bittering hops and bring to a full and vigorous boil.
The total boil time will be 105 minutes. When 10 minutes remain, add Irish moss. After total wort boil of 105 minutes (reducing wort volume to just over 5 gallons), turn off the heat, then separate or strain out and sparge hops. Chill the wort to 65 degrees F (18 C) and direct into a sanitized fermenter. Aerate the cooled wort well. Add an active yeast culture and ferment for 4 to 6 days in the primary at 55 degrees F (15 C). Then transfer into a secondary fermenter, chill to 50 degrees F (10 C) to age for two more weeks, then lager for two to four more weeks at 40 degrees F (4.5 C).
When secondary aging is complete, prime with sugar, bottle or keg. Let condition at temperatures above 60 degrees F (15.5 C) until clear and carbonated, then store chilled.
It may take a couple tries to get the flavor just right, but I'm sure you can do it! Good luck and let us know how it turns out!
——————————————————————————————————-
David Ackley is a beer writer, brewer, and self-described "craft beer crusader." He holds a General Certificate in Brewing from the Institute of Brewing and Distilling and is founder of the Local Beer Blog.