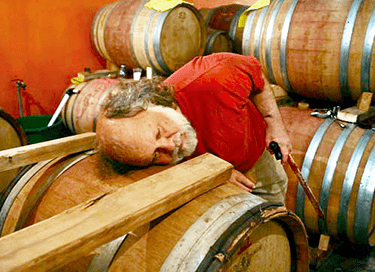 I started a batch of Merlot, it has been in the secondary fermenter under airlock for the last month. It is clearing very nice. How do I determine when the fermentation is done?
Thanks,
Brandon
—–
Hello Brandon,
Thanks for the great question.
Knowing that your fermentation is done before moving forward in the winemaking process is important. If the wine gets all the way to the point of bottling, and the fermentation has not finished, one of two things can potentially happen: either the wine corks will begin to pop out of the wine bottles; or worse yet, if the corks are very snug, you could have bottles exploding.
During a fermentation sugar is being metabolized into both alcohol and CO2 gas. This gas is the same stuff that puts the fizzy in beer, soda pop and champagne, and it's also the stuff that comes through the airlock and creates the bubbling action.
A lot of beginning winemakers will use the airlock to make a determination. They see that the airlock is not longer bubbling and figure this is when the fermentation is done. In reality, the fact that the bubbling stopped is only an indication that the fermentation may be done, but is is not an absolute indicator. It does not necessarily mean that all the sugars are gone from the wine must, and it definitely doesn't mean that the fermentation can't start up again. It just may be dormant at the moment.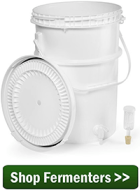 It is very possible for a fermentation to stop and start back up again sometime later. This is known as a stuck fermentation. It is usually caused by some environmental change that the wine yeast does not like – temperature being the most common factor. The important thing to know is that it is possible to bottle a wine that has stopped bubbling and have it start fermenting again after bottling – in the bottle! This CO2 has no place to go and builds up pressure in the wine bottle and well… there's-your-trouble.
This begs the question, if the bubbling action through the airlock is not a solid indicator as to when a wine fermentation is done, then what is? The key to all of this is knowing if there's still sugar in the wine must. If there is then there's still a potential for more fermentation. Fortunately for us winemakers, there is an easy solution. Use a wine hydrometer.
A wine hydrometer is what can tell you if there's still sugar in the wine must. It's very simple to use and gives a reading instantaneously.
A wine hydrometer is a long, closed, glass cylinder.  It has a weight in one end and scales to read along its side. The readings are taken by seeing how high or low it floats in the wine. By observing where the surface of the wine crosses the scale on the wine hydrometer you can get your actual reading.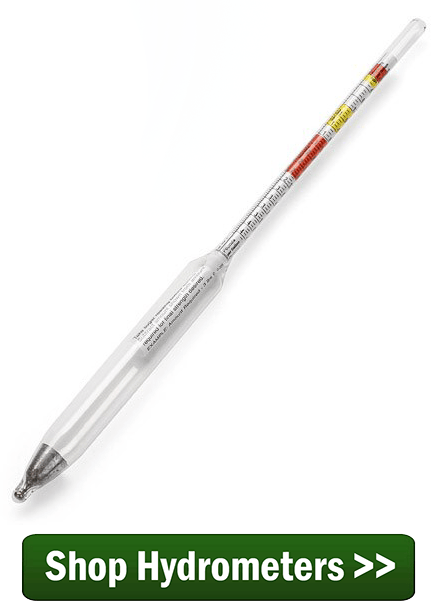 By learning how to use a wine hydrometer, you can assure yourself that you will never bottle a wine too soon. You will be able to determine in moments where your fermentation stands.
You may be asking yourself at this point, "What if I want sugar in my wine"? If you like your wine with some sweetness to it, not a problem. Learn about making sweet wines on our website. It's simple enough to do. You just have to know how to do it properly.
Brandon, hope this information helps you out. The hydrometer is the answer to the question: when is a fermentation done?
Happy Winemaking,
Ed Kraus
—–
Ed Kraus is a 3rd generation home brewer/winemaker and has been an owner of E. C. Kraus since 1999. He has been helping individuals make better wine and beer for over 25 years.