I was wondering what the difference was between muscadine and scuppernong grapes? I hear people talk about both as if they were the same thing. Are they? Or are they different?
Thanks
Justin S.,
—–
Hello Justin,
Both Muscadine and Scuppernong grapes are indigenous to the Southeast region of the U.S. They grow both wild and domestically in backyards and on farms from Arkansas to the Carolina's and everywhere South of there.
Muscadine and Scuppernong are a couple of names that are sometimes used loosely to mean the same grape, but in reality, a Scuppernong is a particular variety of Muscadine. So, technically you could call any Scuppernong grape a Muscadine, but you couldn't call any Muscadine grape a Scuppernong.
Over the decades Muscadines have been domesticated and grafted into varying sizes and color. Today, there are an endless list of Muscadine varieties. While Scuppernong is a variety of Muscadine it is not considered a hybrid or cultivar. It has been know to be in existence since at least the 1600's and has been domesticated in its own right. This is how some of the confusion comes about.
Today in spite of the facts, most people refer to the red varieties as Muscadines and to the white varieties as Scuppernongs.
I say, regardless of what you call them, these grapes make wonderful country wines. Using Scuppernongs is even a great way to learn how to make white wines for the first time.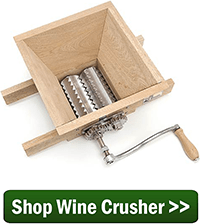 Preparing these grapes my take some effort though. Because of their incredibly thick skins, running them through a grape crusher may be necessary as opposed to simply crushing them by hand.
An alternative to getting a grape crusher would be to use a steam juicer to extract the juice. The steam juicer bursts the skins with steamed heat. The juice then falls out the colander of steamed grapes and runs out into a collector. Once cooled, the juice is ready to go straight into the fermenter.
I hope this information helps you understand a little better about the difference between Muscadines and Scuppernongs.
Happy Wine Making,
Ed Kraus
—————
Ed Kraus is a 3rd generation home brewer/winemaker and has been an owner of E. C. Kraus since 1999. He has been helping individuals make better wine and beer for over 25 years.