Wine ingredient kits offers a great way to make wine when grapes are not in season. These kits contain all the ingredients you will need to produce a batch of wine, as long as you already have the equipment. But what is exactly in one of these kits?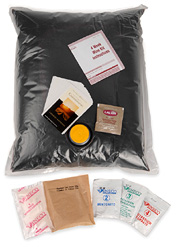 The first thing you should know is that the grapes used to produce these kits are not just any grape from any vineyard down the road. These homemade wine kits contain grape juices collected from notable vineyard regions around the world: France, Italy, South Africa, Australia, New Zealand and, yes, California to name a few.
These kits also come with the wine yeast, fining agents, oak chips (if needed) and in most cases wine bottle labels–customized with the type of wine, alcohol percent, etc. The wine yeast is what does all the fermenting; the fining agents helps to clear the wine; and the oak chips give the wine a natural, barrel-aged flavor.
Another big advantage to making wine with these ingredient kits is that they come with directions that are specific to what you have in front of you. No guessing. The homemade wine instructions make life easy.
So take a look at the ingredient kits that we offer. There are over 200 to choose from: red, white, sweet, dry. There's one to suite everyone's taste.
———————————————————————————————————
Ed Kraus is a 3rd generation home brewer/winemaker and has been an owner of E. C. Kraus since 1999. He has been helping individuals make better wine and beer for over 25 years.