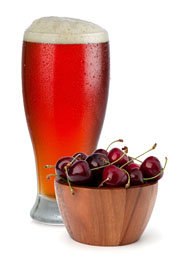 In October, I brewed a Belgian Cherry Dubbel and experimented with using fruit juice in the beer. To refresh your memory, the beer recipe called for adding one to two pounds of fruit per gallon of beer to the secondary fermenter. The recipe's author, Randy Mosher, recommended going on the heavy side with the fruit. Since finding 10 pounds of black and tart cherries would have been a challenge (not to mention quite expensive), I opted to use cherry fruit juice instead.
For the black cherries I added one 12 oz. bottle of R. W. Knudsen's Organic Black Cherry Juice Concentrate. According to the label, this was equivalent to about 4 lbs. of fruit. For the tart cherries, I used a 32 oz. bottle of Whole Foods brand tart cherry juice. I figured this equaled about 3 lbs. of fruit. I mixed a small sample with about two-ounces of the beer and decided the ratio would work.
After about four weeks in secondary, I bottled it up. Two weeks later, I served it at a homebrew festival.
So how did it turn out?
As is often the case, the beer got mixed reviews. (That's ok — everyone has different tastes!)
Some people loved it. Several people commented on the wonderful cherry aroma. There were a couple guys in particular who were reminded about a certain cherry beer from their home state in New York. They came back again and again for more samples.
On the other end of the spectrum, one gentleman made a nasty face and said, "I'd rather keep fruit OUT of my beer!" And of course there were dozens of people who fell between the two extremes.
For my tastes, I found the beer to be very full-flavored, but a bit fruit forward — probably just young. It had a good balance between sweet and tart cherry flavor, but the beer came off as a little heavy on the caramel malt. I believe this made the black cherry flavor seem more pronounced than it really was. It's also likely that the fruit juice contributes a more powerful flavor than the whole fruit would have. If I were to brew it again, I would cut back on the caramel malt (limit to ~1 lb. in a five-gallon batch) and reduce the fruit juice by about 25%.
Still, it's an enjoyable beer to drink (despite a 7.7% ABV) and I expect it to age well. I will stash some bottles and try it again later in the winter. Based on my experience, the fruit flavors will balance out with time. I'd also like to try cooking with some of it. The beer could be reduced into a very tasty cherry syrup, which I imagine would be delicious drizzled over vanilla ice cream and chocolate cake…
In the end, it was a successful experiment that I can take into future batches of beer. As is often the case, this batch will inform every batch from here on out.
Have you ever tried using fruit juice in beer? What did you learn? Share in the comments below!
———————————————————————————————————
David Ackley is a beer writer, brewer, and self-described "craft beer crusader." He holds a General Certificate in Brewing from the Institute of Brewing and Distilling and is founder and editor of the Local Beer Blog.