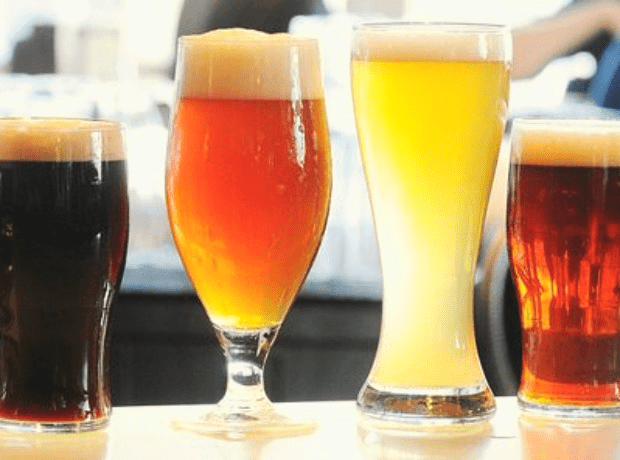 Looking for some great summer beer recipes? Thirst quenchers for the heat? Brews for your backyard barbeque? Look no further!
Since we spend so much time outdoors in the summer sun, summer beers are typically low in alcohol. They're refreshing without being overpowering. The flavor profile can vary quite a bit, from light, easy-drinking cream ales, blondes, and lagers to more assertive IPAs and Belgian ales. Whatever you choose, you'll enjoy it more if you brew it yourself!
Without further ado, below are ten excellent summer beer recipes to get you through the warmer months!
10 Refreshing Summer Beer Recipes

Brooklyn Summer Ale Clone – Just because a beer is low alcohol doesn't mean it has to be low in flavor. For this reason, summer ales are ideal for warm weather. This beer is 4.8% ABV, with just enough citrusy hop character to keep things interesting. A great beer for the pool, the beach, or the backyard.
Honey Blonde Ale – Though we included this in our lineup of perfect spring beers, it's a great fit for summer as well. It's an easy partial mash recipe boasting sweet honey flavors from both honey and honey malt. English Kent Goldings hops bring a touch of citrus.

Buddy Light (Bud Light Clone) – If you're in need of an easy-drinking lawnmower lager or a tailgate beer, this is a quintessential summer beer recipe. No, it won't hit you over the head with hops or alcohol – it's not supposed to. If you can, ferment this one as a lager to smooth it out.

Ommegang's Hennepin Farmhouse Saison Clone – Though on the strong side at 8% ABV, this Hennepin clone is bright gold in color and full of fruity, floral, and spicy character from the use of spices and Belgian ale yeast. All this as an easy-to-brew extract recipe.

Bell's Two-Hearted IPA Clone – If you like IPAs, you'll agree that they're always in season. This beer recipe, with both all-grain and partial mash options, is a clone of one of the most popular IPAs around. This beer features exclusively Centennial hops, offering loads of piney and citrusy hop character.

Blue Noon (Blue Moon Clone) – Brewed in the style of Belgian witbier, Blue Noon is a pale, citrusy, supremely refreshing clone of the ever popular Blue Moon. Enjoy outdoors with a slice of orange!

Hard Apple Cider – Hard cider is easy to make, light, and thirst quenching. If using fresh, unpasteurized juice, use Campden tablets to stabilize it first. Yeast nutrient is also recommended.

Paulaner Hefeweizen Clone – A well-brewed German hefeweizen may be the perfect summer beer recipe. Both sweet and smooth with notes of banana and clove, it's remarkably cooling and drinkable. This clone recipe mimics one of the most popular hefeweiens from Germany.

Dogfish Head 90-Minute Clone – At 8.7% ABV and 90 IBUs, this is the biggest beer on the list. Though you probably wouldn't have more than one or two in a sitting, if you like hoppy beers, this is a delicious recipe that is sure to keep your taste buds happy.
 What are some of your favorite summer beer recipes? Share them in the comment section below…
———————————–
David Ackley is a writer, brewer, and craft beer marketing consultant. He holds a General Certificate in Brewing from the Institute of Brewing and Distilling and is founder of the Local Beer Blog.