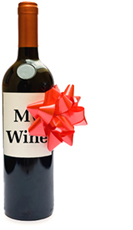 I know my opinion may be a little bias, but I find it very hard to think of a gift more thoughtful and sincere than a bottle of homemade wine. Wine, by itself, is the kind of gift that brings happiness and togetherness. Add to that the fact that you made it with your own hands, and you've got one heck of a gift that can be cherished and enjoyed throughout the holiday season.
It didn't always used to be the case, but today you can dress up your wine bottles to give them a more professional and personalized look. All you need is a computer printer and you can print personal messages on a variety of pre-designed wine bottle labels that we offer.
There's also decorative sleeves of various colors that you can fit over the neck of the wine bottle–just like you see pictured to the right. These neck sleeves are called Heat Shrink Capsules. That's because they shrink perfectly to the bottle when heat is applied. Just put a capsule over the neck and dip it in boiling water for 5 to 10 seconds.
With a little imagination, you can turn a bottle of wine into the professional-looking, personalized wine gift.
Nothing makes a better gift than something you've made. And that's what makes wine making gifts so special. They're something you made that can be enjoyed by other. Add to this the wine bottle labels with your own personalized message and you've got one special gift.
Happy Wine Making
Customer Service
———————————————————————————————————
Ed Kraus is a 3rd generation home brewer/winemaker and has been an owner of E. C. Kraus since 1999. He has been helping individuals make better wine and beer for over 25 years.