I am fairly new to home wine making and was wondering what process should I follow to insure that the wine that I make will not have a short shelf life?
Regards,
Dave Yoder
—–
Hello Mr. Yoder,
The very first thing that I think should be pointed out is that the shelf-life of homemade wine can easily be as long as the shelf-life of any commercially made wine. The home winemaker can perform the same procedures and use the same techniques that are used by a winery to extend the shelf life of their wines.
There are a couple of things you may be meaning by shelf-life when using it in the context of wine and wine making. The first is shelf-life in terms of spoilage. How do you make a wine that will go a long time without spoiling? The second is in terms of flavor. How do you make a wine that will taste good for a long period of time… without it's character, flavor structure and other agreeable qualities breaking down and becoming decrepit? I'll try to tackle both of these perspectives:

PREVENTING SPOILAGE:
If you want to extend the shelf-life of a homemade wine, the first thing you have to do is not allow the wine to spoil. Making a wine that doesn't spoil is relatively simple. There are two basic parts to it:
First and foremost, you need to be sanitary.
By this I mean you need to wash and clean all your equipment, bottles, etc. Make them grim free with soap. This part is mostly common sense.
But beyond washing you need to sanitize all these items. Just because it looks clean doesn't mean that it isn't harboring traces of mold or bacteria. When you are talking about allowing a juice to ferment for days or weeks you need to be sure that the only thing growing is the wine yeast. To do this you must destroy all the other opportunities.
Soap does not sanitize. For this you need to use a sanitizing solution. We offer several sanitizers that you mix with water to make this solution. You can read more about them on our website.
The second half of preventing spoilage is to use sulfites.
Adding sulfites directly to your wine, 24 hours before the fermentation is critical to keeping spoilage from starting. It is only added in trace amounts but is very effective in keeping the wine fresh during the fermentation. It destroys wild mold and bacteria. Then it leaves the wine must by dissipating into the air as a gas.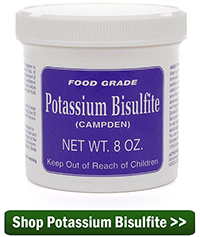 Sulfites should be added to the wine a second time, right before bottling. This is to keep the wine from spoiling while in the wine bottle. Doing this will go a long way in increasing the shelf-life of your homemade wine.
We offer sulfites in three different forms: Campden Tablets, sodium metabisulfite and potassium metabisulfite. Any of these three will work fine. You can find more information about adding sulfite to a wine on our website as well.

MAINTAINING FLAVOR:
Now that we know how to keep a wine from spoiling, we need to know how to make it age better over longer periods of time — without losing its flavor qualities… Its goodness. This is the second part if extending the shelf-life of a homemade wine.
It is important to realize that from a flavor standpoint all wines have a life-cycle. They start out a little harsh; a little rough around the edges; a little bit one dimensional. This is what's meant when someone says the wine is young.
Then as time passes, they slowly matures into a smoother, more flavorful wine. Depending on the quality of the grape, some wines even become complex and layered with many different flavors that come and go on the tongue with each swallow… something with a bit of marveling character. These wines are now considered to be in their prime.
This maturation of a wine will usually happen relatively quickly in its lifetime. Typically in the 6 to 36 month range, depending on the type of wine. After the maturing the wine is usually at its best — flavor-wise. Then very slowly, year after year, sometimes decade after decade, the wine will begin to loose its positive qualities. It will become less flavorful, more flat and lifeless, more uneventful to drink.
This is the rise and fall of the life-cycle of the wine. How fast a wine lives its life or ages-out depends partially on some known factors. These factors control the shelf-life of the wine to some degree:
How Big The Wine Is: Big, heavy red wines that have low pH from tannins and high alcohol, will mature and age more slowly than wines that are light and delicate. So if you want a wine that will keep in the wine rack for years and maybe even decades, make it big. The downside to this is that these types of wines also take a bit longer to mature and become fully worth drinking. They will stay young for longer periods of time. Usually at least 24 months and more likely to be 36 months.
How Much Air Is The Wine Allowed To Breath: Yes, wines breath, but not intentionally. In part, oxygen facilitates the aging of the wine. A slow infuse of air into the wine bottle is what is needed for optimal aging. It just so happens this is exactly what a natural wine cork does. It allows extremely small amounts of air to come in contact with the wine over very long periods of time. If the wine is allowed too much air in a given time period, then the wine will develop a temporary condition known as bottle sickness or bottle shock, and in extreme cases, may become oxidized. If too little air is allowed then the wine will age very, very slowly and in many cases taking it forever to achieve its full potential. This is why you see light, fruity wines being bottled under screw-cap… to stymie the quick aging and extend the shelf-life of the wine.
How Stable Is The Wine's Storage Temperature: This factor is related to the wine's breathing as well. If a wine is being stored in an area that has fluctuating temperatures on a daily bases or even on a seasonal bases: summer verses winter, then it will age quicker and have a shorter shelf-life than a wine that is stored at a constant temperature. This it due to the expansion and contraction of the wine in the bottle. As the wine becomes cooler it will contract just a little. Because it is a liquid it will contract more than the glass wine bottle it is in. This causes a vacuum in the bottle and minuscule amounts of air will slowly seep past the cork into the bottle. The opposite holds true as well. As the wine becomes a little warmer, it will expand causing a small amount of pressure to build up in the bottle. Air will slowly makes its way past the cork and out of the wine bottle.
How Dense Is The Wine Cork Being Used: This partially relates back to the stability of the wine's storage temperature. The more dense the cork is, the less air it will allow to seep past when under a vacuum or pressure. However, if the storage temperature is constant, the density of the cork does not really matter since vacuum and pressure are not being built up in the wine bottle. You will find wine corks with different density on our web site.
How Cool Is The Wine's Storage Temperature: This is mostly a commonsense factor. Wines that are stored at cooler temperatures will age more slowly than wines that are stored at warmer temperatures. So cooler temperatures will extend the shelf-life of the wine. I think this is something most of would instinctively know. Most wine experts agree that a good storage temperature for most wines is 55° F.
Just to recap: there are two parts to extending the shelf-life of a homemade wine. First, you want to be sanitary. Clean and sanitize your equipment. Add sulfites to the wine, particularly before bottling to discourage unwanted growth of mold and bacteria. Second, you want to control air contact and temperature while in the bottle. By understanding and controlling these principals you can control the shelf-life of your homemade wines.
—–
Ed Kraus is a 3rd generation home brewer/winemaker and has been an owner of E. C. Kraus since 1999. He has been helping individuals make better wine and beer for over 25 years.