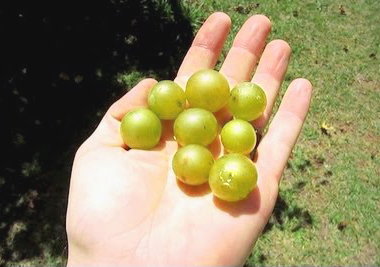 I have almost 4 gallons of Scuppernong grape juice that I've gotten with my steam juicer this year. I would like to know how to make Scuppernon grape wine with it. I was needing to know how much water to add to it. I would like to know what other wine making materials/ingredients I will need. I already have equipment. Can you help me with a Scuppernong grape wine recipe?
Thanks Fred
—–
Hello Fred,
If you were making wine with actual wine grapes you would use 100% grape juice. This means if you have 5 gallons of juice, you make 5 gallons of wine. However, this is not the case with Scuppernong grapes. Their flavor is much stronger and more acidic. The Scuppernong juice needs to be diluted with water for these reasons.
Most Scuppernong grape wine recipes you run across will call for about 30 to 50 pounds of grapes to make a 5 gallon batch. This equates to about 2 or 3  gallons of juice. This is what I also suggest you use to make 5 gallons – 2 or 3 gallons of the Scuppernong juice.
If you want to get more accurate, you can purchase and acid testing kit and keep diluting the Scuppernong juice until the acidity drops to an acceptable level. This would be somewhere between .60% to .70% acidity. The directions that come along with the acid test kit will help you through the testing.
In an average growing season this should take about a ratio of 3 gallons water to 2 gallons of Scuppernong juice. Sometimes it can be equal part, 2.5 gallons water to 2.5 gallons of juice. Keep adding the water and testing the acidity until you reach at least the .70% acidity.
Because you have diluted the Scuppernong juice with water, you have also diluted the sugar concentration of the wine must. Sugar is what turns into alcohol during a fermentation. If there is not enough sugar in the wine must, there will not be enough alcohol in the wine when the fermentation is done. You will need to add sugar to keep the fermentation's potential alcohol in a normal range. I would suggest adding 2-1/4 pounds of cane sugar for every gallon of water you use. This should get you a wine with about 12% to 14% alcohol.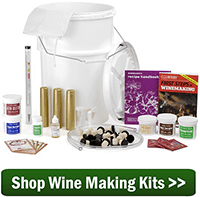 A more accurate way of controlling your wine's alcohol content is to use a wine hydrometer. One of the scales on a wine hydrometer is called potential alcohol. This scale will tell you how much alcohol can be made with the sugar that is currently in the wine must. You just keep adding and dissolving sugar into the wine must until the potential alcohol scale reads the alcohol level you'd like to have. This is a limit to how much alcohol wine yeast can make. For this reason do not shoot for an alcohol level higher than 13%.
Other ingredients you will need to add for the Scuppernong grape wine recipe are as follows:
If you need more information about how to go about making the wine, you might want to take a look at How To Make Wine that is on our website. It will give you a good overall run-down of what you need to do to finish this Scuppernong grape wine recipe.
Happy Wine Making,
Ed Kraus
—–
Ed Kraus is a 3rd generation home brewer/winemaker and has been an owner of E. C. Kraus since 1999. He has been helping individuals make better wine and beer for over 25 years.