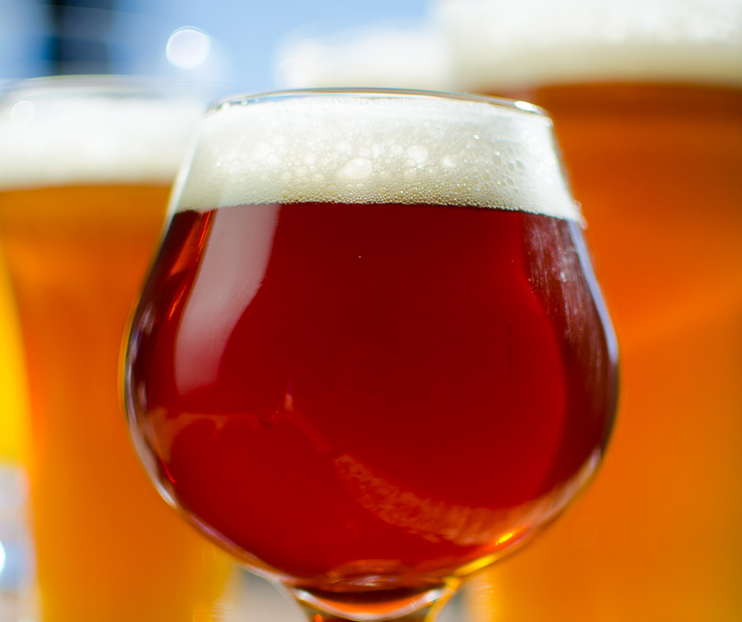 The Bruery in Placentia, CA, is one of the most respected Belgian-style breweries in the US. But instead of the standard lineup of saisons, dubbels, and trippels, this brewery makes a variety of inventive brews using unusual herbs, spices, and yeast strains. Many of their beers pack a punch in alcohol content, but all of them deliver a wallop of creative flavor.
For many years Saison Rue was considered the Bruery's "flagship" beer. The beer is now exclusively produced by the Bruery's wild and experimental side project known at Bruery Terreaux, and Saison Rue has been re-released under that name. It's best described as an imperial rye saison with brett – in other words, a strong Belgian ale made with a significant amount of rye malt and finish with "wild" Brettanomyces yeast.
Brettanomyces yeast is often used by craft brewers to give beers a dry, somewhat funky, "barnyard" character. Brett takes a long time to develop, initially giving notes of pineapple, but delivering more of the funky notes after 3-6 months. It's fun to see how these Brett beers change over time.
I recently brewed this Saison Rue clone for a homebrew festival. One professional brewer remarked that it was his favorite beer at the fest. If you like strong, complex Belgian ales, this one's for you!
The Saison Rue clone beer recipe below comes from Michael Agnew's excellent Craft Beer for the Homebrewer, a recipe book chock-full of homebrew clone recipes of commercial beers – I highly recommend it!
Saison Rue Clone Beer Recipe (via Craft Beer for the Homebrewer)
(5-gallon batch, all-grain)

Specs  
OG: 1.072
FG: 1.008
ABV: 8.5%
IBU: 30
SRM: 10

Ingredients  
9.25 lbs. two-row pale malt 
4.4 lbs. rye malt 
6 oz. brown malt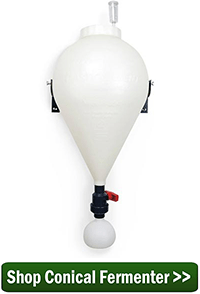 1 lb. rice hulls 
.55 oz. Magnum hops pellets – first wort hops
.15 oz. spearmint at :20
9 oz. corn sugar at :5
.5 oz. Sterling hops at :0
Wyeast 1388: Belgian Strong Ale yeast 
Wyeast 5112: Brettanomyces bruxellensis yeast (added at bottling)
Corn sugar for priming (use a priming calculator to determine how much sugar to use)
Directions
Prepare an appropriate starter using the Wyeast 1388, or plan on pitching two packs of yeast. Mash the crushed malt along with the rice hulls at 150˚F for one hour. Sparge with 170˚F water to collect 6 gallons of wort. Add the Magnum hops while collecting wort in the kettle, then bring wort to a boil. Boil for 40 minutes, then add the spearmint. After 15 minutes, add the corn sugar, stirring to avoid scorching at the bottom of the kettle. After five minutes, cut the heat and add the Sterling hops. Chill wort to 70˚F or below, then transfer to a clean, sanitized fermenter.
Ferment initially at 65˚F, but allow the temperature to slowly rise to 85˚F over the course of a week. At the end of primary fermentation, transfer to a secondary fermenter. After 5-7 days, transfer to a bottling bucket along with the Brettanomyces yeast and corn sugar and bottle. This Saison Rue clone beer will be ready to drink in 2-3 weeks, but the Brettanomyces character will develop over the course of several months, so be sure to save some bottles back for aging!
Are you a fan of Belgian ales? Also consider brewing this Rochefort 8 clone.  
—–
David Ackley is a beer writer, brewer, and self-described "craft beer crusader." He holds a General Certificate in Brewing from the Institute of Brewing and Distilling and is founder and editor of the Local Beer Blog.