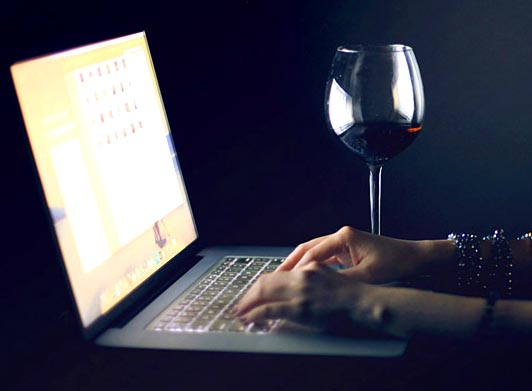 In my last post I promised you all a more detailed explanation of what went wrong when filtering my Rosso Fortissimo wine kit. There were definitely problems filtering this wine, so here it goes…
So far, I'm basically 0 for 2 when it comes to successfully filtering my wine using the wine filter system. I'm not happy with it and I'm debating whether or not I should just get rid of it all together and try something else. I'm sure it's mostly something I'm doing wrong, however maybe I should just take it as a sign that this particular wine filtering system and I just don't get along and that we weren't meant to be. I'm getting a little stressed out just thinking about it again.
This time around, I KNOW that I put the filtering system together properly. I checked the instructions about a million times and followed them to the letter.
I filled up the pressure tank to the appropriate level with water, and pumped it through the filter so as to remove possible cardboard or other paper-like flavors. That all went great! Barely any leakage through the filter! All right! It's all ready for the wine to go through now!
Or so I thought….
I transferred some of the wine from the carboy into the holding tank/vessel and started pumping it through the wine filter. All of a sudden a TON of wine comes pouring out the filter and NOT into the clean carboy that it was supposed to go into. Seriously, the amount of wine going into the carboy was on a 1-to-1 ratio with the amount of wine just happily flowing out of the wine filter onto my catch pan like a creek in a flood.
The amount of wine spilled in the tiny bit of pumping that I did was already markedly greater than the amount of water I lost TOTAL just previously.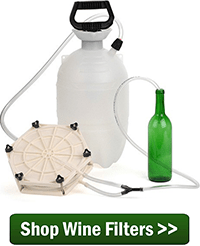 There was no way I was going to lose half of my precious, homemade wine just to get it cleared up, so I immediately decided to stop filtering it and poured all the unfiltered wine that was in the holding tank/vessel into the clean carboy. I then went ahead and racked the remaining wine from the old carboy into the new clean carboy, cursed the wine filter to hell and back, and moved forward with the bottling process.
What the heck just happened here? I never expected to have another problem filtering my wine. The water moved through the filter perfectly and I barely lost anything, but when I sent the wine through, most of it went spilling out onto the catch pan.
My only guess is that the filter size was too small for this particular wine. Perhaps the wine wasn't clear enough after all and what I really needed was a filter with a much larger pore size. Maybe with the smaller pore size it got clogged up almost immediately (though after inspecting the filters they didn't look clogged — but who knows) and the wine had no choice but to find its way out through any opening possible.
Anyway, now that I am reliving this story to you all, my frustration level with this wine filter has once again skyrocketed. I'm not sure what I'm going to do exactly — be it just buy larger filters and cross my fingers that that's the issue, or throw the whole darn thing out the window and buy a completely different wine filtering system.
Sigh…
Any help any of you could provide about using this wine filter system— or have this problem filtering my wine — would be greatly appreciated.
———————————–


My name is Leigh Erwin, and I am a brand-spankin' new home winemaker! E. C. Kraus has asked me to share with you my journey from a first-time dabbler to an accomplished home winemaker. From time to time I'll be checking in with this blog and reporting my experience with you: the good, bad — and the ugly.