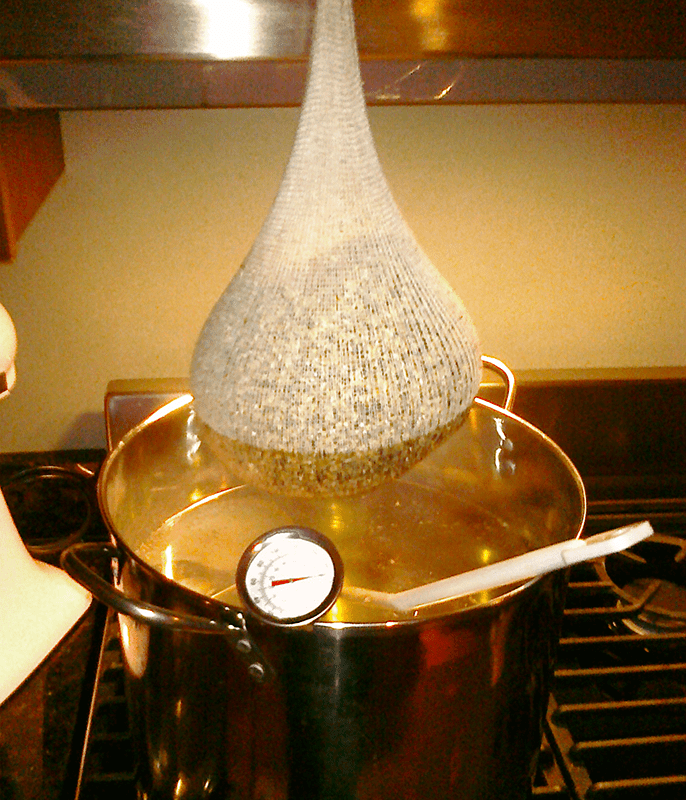 Sometimes partial mash brewing gets a bad rap. Some think that the only way to make good beer is by brewing all-grain. On the contrary, you can make good beer with malt extracts and some specialty grains. I can think of several examples of good beer made with malt extract, and if you're a homebrewer, chances are you can too.
Having recently gotten back into partial mash brewing in my home brewery, I'd like to share a few of the reasons I've enjoyed going back to this simpler method of brewing:
It's how most of us got started with homebrewing. Maybe you've been brewing for a while. Remember partial mash? Remember those first few batches you did way back when, the ones that came out surprisingly good? Without the ease and simplicity of partial mash brewing kits, you may not be brewing today. Try getting back into partial mash brewing, and whatever you do, don't discourage would-be homebrewers by giving partial mash a bad name.
Partial mash brewing takes less time. Partial mash brewing eliminates a couple key steps of the brewing process: the mash and the lauter. Combined, these steps can take well over an hour. Additionally, since a partial mash brew often has a smaller boil volume, it takes less time to bring the wort to a boil, and less time to chill it afterwards. Looking for other ways to save time while homebrewing? Check out these 8 Time-Saving Tips for Homebrewers.
Partial mash brewing requires less effort. Because there's less grain and less water, there's less heavy lifting when doing partial mash recipes. Plus, with the easy availability of partial mash brewing kits, there's no need to stress over building a beer recipe.
Partial mash means easy cleanup. Partial mash brewing may only leave you with a pound of so of spent grains. It's much easier to dispose of a pound than ten or more pounds of wet grain. Better yet, it's a perfect amount of spent grains to put into spent grain bread or dog treats. Plus, if using a grain bag, you don't have to clean out a mash tun.
You still end up with great beer! At the end of the day, a partial mash brewing kit still gives you five gallons of great beer. With a few tricks up your sleeve – stellar cleaning and sanitation, late extract additions, yeast starters, fermentation temperature control – you'll be able to make great beer every time.
Partial mash brewing offers quite a few advantages over all-grain. If you've been brewing all-grain for a while, maybe it's time to circle back and give partial mash another chance.
Do you brew partial mash vs all-grain? Why or why not? Share in the comments below!
—–
David Ackley is a beer writer, brewer, and self-described "craft beer crusader." He holds a General Certificate in Brewing from the Institute of Brewing and Distilling and is founder and editor of the Local Beer Blog.