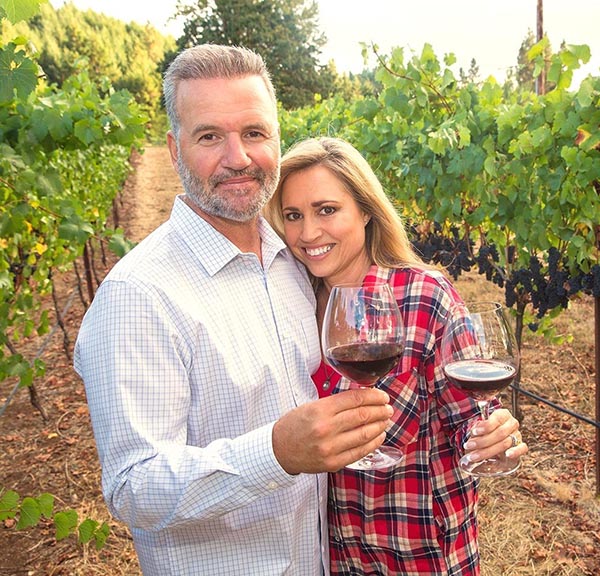 Yes, that's right! You can own your own vineyard (2 vines) in California's coveted Napa Valley for one year. Then have the crushed grapes sent to you so you can make your own Napa wine. This is a spectacular offer at a spectacular price. Quality, Napa-grown grapes sent to your door.
Here's How It Works!
Carneros Della Notte vineyard in Napa valley is leasing their vines for one year. They will send you a certificate of ownership and mark your 2 vines by tagging them with whatever vineyard name you choose. Once the grapes (Pinot Noir) are harvested (in September), you have the option of having them sent to you so your can make your own private estate wine. Carneros Della Notte will contact you about how to do this shortly before the harvest. The crushed grapes will come to you directly from the vineyard in a 5 gallon package, crushed, and ready for fermentation. Just pay shipping.
Here's What You Get:
A vineyard lease for one year (2 vines)
Certificate of ownership of your Napa vineyard, suitable for framing.
If you like, the opportunity to come visit your vines anytime. Please call ahead.
2 invitations to the estate's Annual Night Harvest Party.
The option of having the 5 gallons of crushed, Napa-grown, Pinot Noir grapes sent to you.
And as a bonus, 50% all Carneros Della Notte wine during the year.
Happy Winemaking,
Ed Kraus
—–
Ed Kraus is a 3rd generation home brewer/winemaker and has been an owner of E. C. Kraus since 1999. He has been helping individuals make better wine and beer for over 25 years.