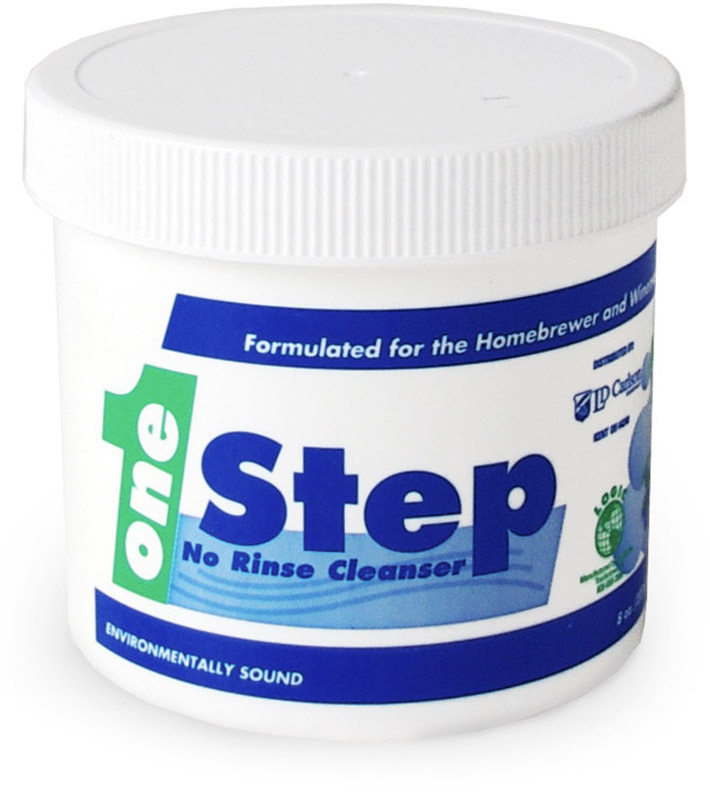 The directions on the container of One Step No Rinse Cleanser simply say to rinse your equipment with the solution. Is there a minimum amount of contact time one must allow for the solution to work prior to using the sanitized equipment? The results of an online search stated anywhere from 30 seconds to 2 minutes. I know the safe route would be to let it sit for at least 2 minutes, but I'd rather not stand there waiting if I don't have to.
Name: Paul
State: Missouri
—–
Hello Paul,
The One Step No Rinse Cleanser is actually an oxygenating cleanser. This means that it uses a burst of oxygen from the solution to do the sanitizing. This high oxygen level actually destroys any unwanted microbes.
The great thing about any oxygenating cleanser is that it gives the biggest burst of oxygen while the solution is evaporating off the surface of what is being sanitized. In other words, the contact time with the solution is not what really matters. What matters is that the solution be allowed to evaporate without interruption after being taken out of the solution. The amount of time in the One Step solution is not critical. This is way the directions seem so vague.
The only situation when the length of time would matter is if you are treating a piece of equipment that has a lot of tight spots, or has a surface that is complex and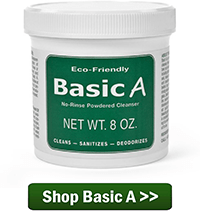 not smooth. A couple examples of this would be a nylon brush or a straining screen. In both cases you would want to give "some" time for the solution to work its way in between and onto the surface of each nylon bristle or into the corner of each square of the screen. This could require a few seconds due to the surface tension of the solution.
The flip-side of this is when sanitizing a surface that is smooth, like glass, no time is required in the solution at all. Just dip or apply with a rag and allow to evaporate. Again, the evaporation from the surface is what's key, not the time in the solution.
If you want to get the most out of the One Step No Rinse Cleanser you would allow your equipment to dry completely before using. However, I understand that following such directions would not be practical in a lot of situations, since it would make things way too time consuming. So as a matter of practicality, I would follow these directions: dip or or wipe with a rag the equipment with the solution of One Step No Rinse Cleanser, then allow to dry for 5 minutes.
One final not I'd like to make is that the One Step No Rinse Cleanser is not a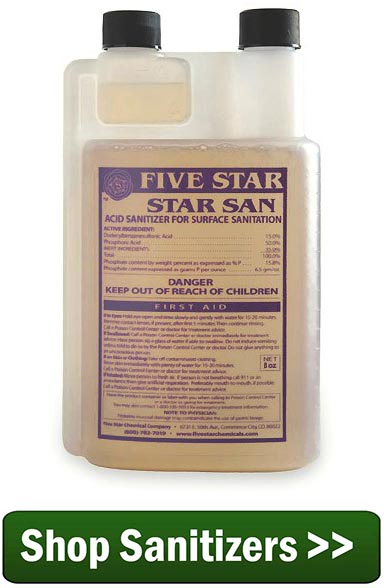 soap or detergent in any way. It is not designed for or intended to release grime from your wine making equipment. This is something that needs to be done with a dish soap or similar, beforehand. The One Step No Rinse Cleanser is strictly for sanitizing your wine making equipment. It is designed to kill any molds, bacteria, etc.
Happy Winemaking,
Ed Kraus
—–
Ed Kraus is a 3rd generation home brewer/winemaker and has been an owner of E. C. Kraus since 1999. He has been helping individuals make better wine and beer for over 25 years.