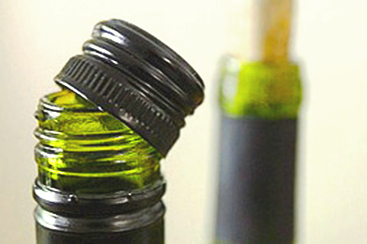 1. Are the mushroom cork or t-corks easy to install, or do you need special equipment. Do they seal as well as regular wine corks, (over time)?
2. Wine bottles that have a screw top, can you reuse them with a wine cork?
Name: Tom H.
State: Davison, MI
—–
Hello Tom,
The T-corks (mushroom corks) are very easy to install. This is the biggest advantage to using them over traditional wine bottle corks. You do not need a wine bottle corker or any mechanism of any kind. You simply put T-corks in by hand. Every now and then you may get a stubborn one, but that can easy be remedied by tapping on it with a rubber mallet or similar.
The biggest disadvantage with T-corks is that they are not meant for long-term storage. Some wines made from fresh grapes or maybe elderberries may require several years of aging. These are not the corks to use for that situation. We recommend using T-corks for wines that you intend to drink within a one to two years.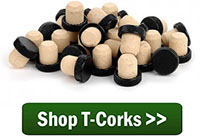 As to your second question about using wine bottle corks on a screw-cap wine bottle, the answer is "not advisable". This is for two reasons. The first is that the size of the opening of the wine bottle is critical to the success of the wine bottle cork. The wine bottling opening needs to be 3/4″. This is not the case with most screw-cap wine bottles. They are all close, but usually off a bit.
The second reason, and the one that is most important, is the shape of some screw-cap wine bottles are not correct to accept a wine bottle cork. The opening of the wine bottle needs to be a straight barrel. With some screw-cap wine bottles the barrel is not straight. The shoulder of the wine bottle rises too high to accommodate a straight barrel opening that a wine bottle cork needs, so what you end up with is a slightly-flared barrel opening.
Without this straight-barrel opening two things can happen:
The cork does not seal tightly enough along the whole length of its side. As the barrel opening flares out, the resistance against the side of the cork becomes less and less.
Because of this flaring and uneven resistance, it can actually entice the wine cork stopper to pull down into the bottle. I've seen this happen more than once. Think of squeezing a marble between your fingers. If you don't squeeze it evenly or to one side, it pops out. This is the same effect that can happen when corking a screw-cap bottle that has a flared barrel.
Thanks for the great questions, Tom.
Happy Winemaking,
Ed Kraus
—–
Ed Kraus is a 3rd generation home brewer/winemaker and has been an owner of E. C. Kraus since 1999. He has been helping individuals make better wine and beer for over 25 years.