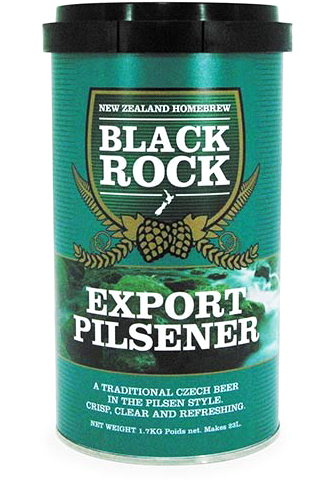 We're excited to share that we've added twelve new homebrew beer kits to our lineup of malt extract beer kits! These kits are very easy to brew – ideal for anyone new to homebrewing or for seasoned homebrewers looking to simplify their brew day.
Each kit is fully hopped and comes with straightforward directions to guide you through the homebrewing process. You'll just need to add water and 2.2 lbs. of corn sugar to complete the recipe. If you've never brewed before, we recommend you browse our "New to Brewing" articles to learn what it takes to get started. These are no-boil kits, so the only equipment you really need is a beermaking starter kit.
The twelve new malt extract beer kits from Black Rock Brewery include:
Pilsner Blonde – A European-style golden lager. Dry with full hop flavor. 14-18 IBUs, 2-4 SRM.
Apple Cider – Not a beer of course, this kit is made using New Zealand's finest apples. 0 IBUS, 2-4 SRM.
Miner's Stout – An everyday stout. Dark and roasty with flavors of chocolate and coffee, but not too bitter. 25-35 IBUs, 40+ SRM.

Bock – A German classic, bock is a dark, malt-forward lager with flavors of toast and caramel. 14-18 IBUs, 23-28 SRM.

Nut Brown Ale – An English-style amber ale with flavors of caramel and toffee and a hint of biscuit. This beer kit is a great choice for beginning homebrewers. 19-23 IBUs, 11-14 SRM.

New Zealand Company Bitter – A New Zealand take on the English bitter. Rich, strong, and well-balanced with a pronounced hop character, but not overhopped. A sessionable pale ale. 26-34 IBUs, 11-14 SRM.

Pale Ale – A light, golden ale with a subtle, floral hop character from the finest New Zealand hops. Easy drinking, yet full of flavor. 14-18 IBUs, 2-4 SRM.

Whispering Wheat – An easy-drinking and refreshing wheat ale. Crisp and slightly sweet. A great beer for warmer weather. 14-18 IBUs, 2-4 SRM.

Mexican Lager – A smooth lager in the Mexican style, perfect for your next fiesta. 14-18 IBUs, 2-4 SRM.

Lager – A crisp, clean, pale golden lager. Moderate hop bitterness and aroma. 18-22 IBUs, 2-4 SRM.

Dry Lager – A pale lager with a crisp, dry finish. Not quite as bitter at the lager above. 14-18 IBUs, 2-4 SRM.

Export Pilsner – A Czech-style pilsner lager, similar to Pilsner Urquell, with more hop bitterness than the other lagers listed here. 35-40 IBUs, 6-7 SRM.
 If you're new to homebrewing, any one of the malt extract beer kits would be a good place to start!

What other kinds of beers are you interested in making?

———————————–
David Ackley is a writer, brewer, and craft beer marketing consultant. He holds a General Certificate in Brewing from the Institute of Brewing and Distilling and is founder of the Local Beer Blog.