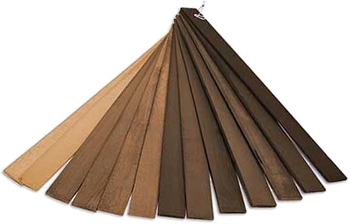 I have tried oaking wine to my satisfaction with oak chips. Now I want to make my own toasted oak strips. I purchased some white oak that I sawed into yard stick width and thickness.  I noticed in the wine supplies different types of flavors for oaking. I was told it was like flavored coffee. What should I do to the oak strips so as I can oak wine?
Thanks,
Marvin F.
—–
Hello Marvin,
First, I want to commend you on your DIY spirit. It's fun hearing about people tryin' to get it done on their own.
This is a project that is a little more involved than one might first suspect. Toasting oak to be used in wine is a very delicate process. I for one would suggest that you are probably better off by leaving this one to the experts. But I understand your drive to try doing this yourself.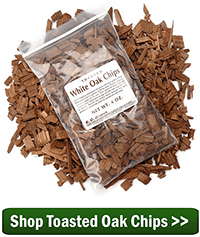 First, it is important that you use a white oak as opposed to red oak. You seem to be okay in that department based on you question, above. Red oak is a completely different family of wood. The only thing they have in common is the word "oak".
The oak then needs to be dried to what cooperages refer to as sap clear. They typically do this by letting the slats or staves of wood dry cross-stacked in the sun for 1 to 3 years. The oak strips are rotated and rearranged periodically to allow for even drying. Someone trying this at home could get around this if they happen to have a kiln of some sort to dry the slats out, or maybe they have a source of white oak that has already been sitting around for a few years.
Once the white oak is sap clear it then needs to be toasted. This is typically done over a flame of burning white oak wood. Oak is used for the fire for toasting as opposed to another wood or fuel to keep foreign residues to a minimum. Try not to let the smoke from the fire directly hit the wood. Rely more on the fire's radiating heat by keeping the wood adjacent to the fire instead of over the fire.
There is some art and some science to toasting oak for wine. Not only do you need to be concerned about how toasted the oak wood is becoming, you also need to be concerned about the temperature being used to do the toasting. Both how much you toast the oak and how fast it toasts plays into the flavor the wood will contribute to the wine.
If the wood is toasted too fast there is not enough time for all the caramelized sugars in the wood to raise to the surface. The heat doesn't penetrate the wood deep enough. Toast the wood too long and you will raise too much tannin with the sugar which will bring too much bitterness to the wine. The right temperature a length of time is beyond my experience and most cooperages keep this info as a trade secret, but you can get a sense of what to do by seeing how a wine barrel (not whiskey barrel) is toasted.
Because of the complexity involved, I would suggest that you do not try this yourself and purchase some oak that has been professionally prepared. It is not something I would try, especially when an entire batch of wine may be on the line, and the toasted oak is relatively inexpensive.
Happy Wine Making,
Ed Kraus
—–
Ed Kraus is a 3rd generation home brewer/winemaker and has been an owner of E. C. Kraus since 1999. He has been helping individuals make better wine and beer for over 25 years.