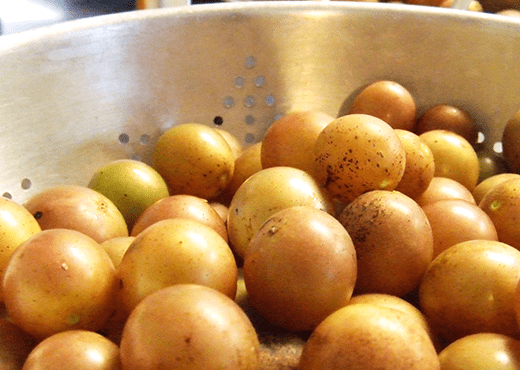 Do I need to leave on the skins with my gold muscadine must, as I do when I make purple scuppernong must? Or do I need to ferment without as most white wine recipes do when making muscadine wine. Love the advice we receive here. Always great. Thanks for your time and knowledge.
Frank V. – TX
—–
Hello Frank,
Thanks for the kind words and a great question about making muscadine wine.
It is possible to make a white homemade muscadine wine with or without the pulp and skins. It is mostly a matter of personal taste, but it is also an important decision because the resulting wine will be very different in each case.
If you use nothing but the juice from the muscadine grapes to make the wine you will produce a wine that is lighter-bodied, crisp, and refreshing. It will have a straw color. The wine will mature fairly quickly, meaning it will usually be drinkable in a matter of weeks.
One important consideration when making muscadine wine from juice only is that the white muscadines will need to be crush and then pressed with an actual wine press, otherwise you will be leaving a lot of grape juice behind in the pulp. The juice will need to be squeezed from the pulp to avoid this significant waste.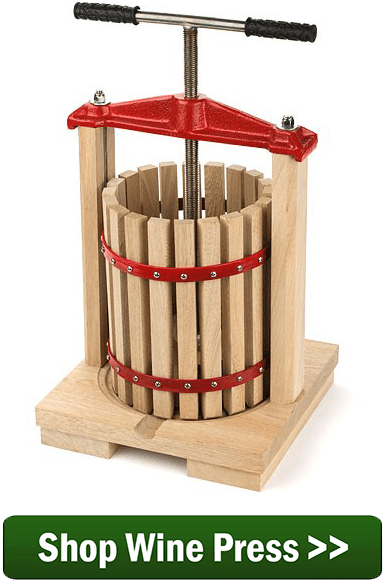 If you leave the pulp in the fermentation, the body of the wine will be much fuller and heavier. The color of the muscadine wine will be more intense and closer to a gold color than a straw color. It will be less refreshing, but more rich and earthy. It will have wider array of flavors, adding complexity to the wine. Leaving the skins in the fermentation can make a considerable difference.
If making a white muscadine wine with the skin and pulp, there may be more care required to get the wine to clear. It will also take longer to age into something you'd want to drink. I could take the better part of a year for the wine to come around.
Once the pulp and skins are removed from the fermentation, it would be advisable to press them to maximize your output of wine. However, in this case it is not not as critical a before because the fermentation will have broken down the pulp to a point where a significant portion of the juice will have be extracted.
My personal opinion is that when you are making muscadine wine at home you should take a middle-of-the-road approach.
Most red wines are fermented on the pulp for around 5 to 7 days. The more days the pulp is in the fermentation, the fuller the body. Wineries use the numbers of days to partially control the body of the wine they are producing. In a sense, they are sculpting the character of the wine.
This sculpting is used occasionally when making white wines, too. One that comes to mind is Sauvignon Blanc. It is not unusual for the skins and pulp to be in with the juice for the first day, just to extract more of the grape's body.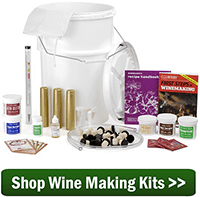 This approach can be used when making muscadine wine at home, only I would leave the pulp in for 2 or 3 days and then remove the skins and pulp and then press. Make it a short primary fermentation. By doing this you should end up with a white muscadine wine that won't take a year or more to maturate, but will still have some nice flavor and body that will make the wine enjoyable and interesting.
Having said this, it is your wine. If you are look for a crisp and refreshing muscadine wine, leave the pulp and skins out of the equation altogether. If you're looking for a big, full muscadine wine with lots of flavor, but may take a year or better to age out, keep the skins and pulp in the fermentation for 7 days.
Frank, I hope this is the information you was looking for. We also have a recipe for making muscadine wine, if you need one. It also has directions on how to make the muscadine wine. If you're not sure what you want to do, just do something. You'll end up with a wine regardless. And, you'll have the experience of making a muscadine wine.
Happy Winemaking,
Ed Kraus
—–
Ed Kraus is a 3rd generation home brewer/winemaker and has been an owner of E. C. Kraus since 1999. He has been helping individuals make better wine and beer for over 25 years.